Dutch postal operator PostNL has taken delivery of the first two Renault Master ZE electric vans built in Europe.
PostNL aims to achieve CO2-free deliveries in 25 inner cities where it operates by 2025.
The ZE is equipped with a 33kWh lithium-ion battery giving it a real-world range of about 75 miles, which makes it suitable for last mile deliveries in inner cities.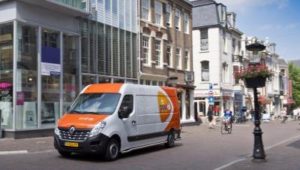 The battery charges in just six hours with a 7.4kW charger.
PostNL will have 17 ZEs by the end of 2018. Liesbeth Kaashoek, packages and logistics director at PostNL: "This means our packages will be delivered emission-free in the inner cities of Utrecht and Leeuwarden, and other cities will follow soon."
The first UK deliveries of the large panel van will start in winter 2018.