Distribution centre operations at Poundworld have closed today (Friday 20th July) resulting in the redundancies of 299 employees across the distribution centre and head office functions.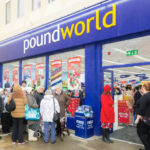 Clare Boardman and Daniel Butters, restructuring partners at Deloitte, were appointed as joint administrators to Poundworld Retail Ltd on 11th June 2018. At the time Poundworld operated 335 stores and employed about 5,100 people.
The administrators also said that a further 78 stores are closing either on Thursday 26 July or Sunday 29 July.
The remaining 112 stores are scheduled to close by 10th August.
The administrators said discussions would continue with interested parties for the potential sale of parts of the remaining business.