Industrial printers are increasingly being integrated into broader data networks as companies seek to take advantage of developments such as the Internet of Things.
Printers are a core part of any fulfilment operation – and reliability and efficiency are critical. But market trends such as omni-channel fulfilment and the Internet of Things are having an impact on product developments.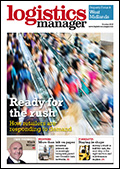 Moving to an omni-channel fulfilment model has, for Citizen Systems Europe, played a vital role in increasing demand and growing market share, says European marketing managing Jörk Schüßler. The company now offers integrated omni-channel solutions for its customers, whether they are in distribution, value added reselling, retail or one of the many end-user segments, he says.
Richard Hughes-Rowlands, product manager at Zebra Technologies, agrees. "Tracking is now more important than ever and omni-channel fulfilment is driving a vast increase in demand. The growth in e-commerce has meant that couriers are having to transport an unprecedented number of packages around the world. As these delivery and return chains get more complex, printers are critical for producing the labels and barcodes that can keep track of where everything is.
"Furthermore, when looking at the types of printers businesses are demanding, the critical issue for them is ensuring they have the right sized printers in the right places across the supply chain. Although the printers may produce similar labels, the print volumes can vary depending on where it is in the supply chain. For example, in the retail industry, more capacity could be required in the warehouse but less will be needed in store.
"Mobile print devices are also proving to be extremely popular when it comes to omni-channel fulfilment; however, what is becoming even more desirable to enterprises is having a family of devices that can work together. Where the sizes of printer will vary in the family, the software, device management and functionality remains the same. For businesses this keeps management, maintenance and training costs down."
Sabine Mayer, TSCs marketing manager for EMEA region, highlights the demands being put on the technology. "Printers are important modules in networked solutions and essential for identification process. They communicate with ERP systems, they are integrated in a complete IT structure and, as a result, they have to process data fast, secure and transparent. To fulfil all requirements, they need enormous memory, fast processors, a powerful firmware and modern interfaces."
And it's not just omni-channel fulfilment that is having and impact. The growth of the Internet of Things (IoT) means that printers have to play their role in an increasingly complex data network. "The connected printer is now one of the key sources of data for a business driven by logistics," says Hughes-Rowlands.
"The information represented by a barcode or RFID tag that is generated through a connected printer can increase the visibility of a business' operations, as it detects and locates the movement of products and reports back to a centralised system. It is ultimately the connector between the internet and a product, as the physical products can only exist to online systems through its identity labels."
Schüßler believes that the IoT offers consumers new and exciting ways of interconnecting devices of all kinds in the business space. "At the printer level there is considerable scope to exploit existing levels of machine intelligence to improve the quality of data communications between printers and other networked systems. Output signals from transfer ribbon near-end sensors, for example, could be used as prompts for a stock control system, enabling replacement ribbons to be automatically ordered and delivered to stock before existing supplies run out."
Many businesses are now already using the IoT for stock and asset management, says Hughes-Rowlands. "Instacart is a same-day grocery delivery service that connects customers with personal shoppers who can pick up and deliver their groceries. Instacart uses Zebra's printing devices managed by a centralised system, to track and manage groceries from local partner stores, so that deliveries can be made in as little as an hour."
But there are other factors influencing printer design. Hughes-Rowlands highlights the importance of standardising how printers function. "By making the software and functions similar, they become easier to use and staff will only need to be trained once on one device, and from there they can then easily apply what they know to the rest of the device range. So, for the many businesses regularly recruiting seasonal staff, this can save on training resources, time and costs.
And Schüßler points out that developments in manufacturing techniques, together with factors such as new materials and software developments, are playing an important role in changing printer designs, both functionally and ergonomically. "For example, the new generation of Citizen printers are simpler and easier to use than ever before, with features such as fast media loading and advanced ribbon control and positioning ensuring consistent, high quality and reliable printing."
Other developments are incremental providing small but important improvements in performance, functionality and reliability. Citizen recently introduced new transfer ribbon near-end sensors, which provide users with an alert that ribbons will soon require need replacement, says Schüßler.
TSC recently equipped its MT series industrial thermal printers with an innovative print head, says Sabine Mayer. "Our special 'Thermal Smart Control' tracks and calculates the duration that each pixel needs to be heated to provide accurate, crisp and clear labels."
And Renovotec has launched what it describes as a "new business model" rugged printer label subscription service that includes a Honeywell industrial printer plus maintenance, support, consumables and delivery – for a single monthly payment. Managing director Richard Gilliard says: "Subscribers will never have to buy a printer again. Under the monthly delivery model, companies don't need to bulk-buy, store labels to achieve a cost effective price – which releases storage space. They no longer have cash tied up in printers, plus they have access to the best models. We believe that this service breaks new ground."
Case study: SAP integrated label management
Pharmaceutical company Teva ratiopharm was able to improve its internal logistics by integrating SAP label-management software by AutoID specialist ADC Distribution and Honeywell industrial printers. When the company was looking for a new printing solution, long-standing supplier ADC drew the attention of its IT managers to the SAP-integrated label management programme written by OPAL Associates. ratiopharm's SAP experts were impressed with the production, printing and maintenance of the labels, all carried out directly within the SAP system.
During manufacture, Teva ratiopharm produces both box and shipping labels that need to correlate. The first challenge was to establish a field catalogue for the various label categories that would define data acquisition. From the start, Teva ratiopharm's IT team established an expanded catalogue so as to be ready for future label requirements and client requests. Labels are laid out using Seagull Bartender. Products such as pills are packed by machine and then gathered into cardboard boxes in an on-going process. These sealed units are labelled by the Honeywell printers. The labels contain the product name, the barcodes of the order number and load as well as the PZN (German equivalent of PPN, Pharmacy Product Number).
Every day around 150 PM4i and EasyCoder 501XP printers produce labels as part of the logistical process. "The PM4i is programmable and distinguishes itself through expanded and secure network functions and by supporting the latest network protocols, thus offers a solution that is reliable and scalable in the long term", says Erich Harscher, IT business analyst SAP Support CoE Production with Teva ratiopharm.
Due to the success of the new devices an extension to the license agreement for 70 printers has been applied for. Future label orders using Japanese characters are also being discussed which could be produced by the OPAL label management.
Maintenance: Setting up the printers for success
The label that goes on a box costs next to nothing – but if the label is missing or badly printed the cost further down the supply chain could be significant. So it is important to have a reliable printer and to ensure that it is well maintained.
Sabine Mayer of TSC points out that for companies every minute of downtime is very expensive, eventually having an impact on the entire supply chain too. It's better to choose a professional high quality device working reliable and trouble-free for a long time. Some of our desktop printers, for example, are suited with a durable and innovative dual-motor print engine, which incorporates a 32 bit high performance processor that can handle high volumes of data without sacrificing throughput and without problems.
Citizen's Jörk Schüßler, says: "Firstly, it must be noted that modern printers are tougher and more reliable than ever before.
"To minimise the risk of failure it is essential that printers are specified correctly for each application. Also, customers need to consider total cost of ownership. A low cost printer from an unknown brand may initially look like an attractive option, but in the long term will be more expensive to operate and maintain, especially as the prices of parts such as replacement thermal heads can be high – often more than twice that charged by major manufacturers such as Citizen.
"However, in common with all products with consumables and moving parts, especially when used in demanding applications, printers can sometimes fail. This is why having an extensive network of service and customer support centres is crucial."
Renovotec was recently appointed by Brother as a UK authorised centre for the repair and servicing of its rugged warehouse and industrial label printers. Renovotec will repair printer models in its label-printer Rugged Jet RJ Series and Thermal Desktop TD Series, as well as its mobile Pocket Jet PJ Series – both in and out of warranty.
"Brother provides a viable, globally tried and tested alternative in the rugged-environment, label printer market" says Renovotec managing director Richard Gilliard. "The relationship makes good use of our hardware expertise and allows us to offer a new service to supply chain, manufacturing and other users."
Zebra's Richard Hughes-Rowlands advises: "Don't wait for the printer to fail before working out how to get it fixed. Plan for it ahead of time, ensure a service contract is in place and in the eventuality that things go wrong, have a plan for that as well.
"Part of the planning process required is understanding what the various devices are doing. An operational process should be in place to identify the workload and its appropriateness for the printer. Educate device users on maintenance processes and procedures to follow if a printer breaks down. Servicing and repair needs to be quick and simple because if there are easy tasks that users can manage themselves, this will reduce downtime and operational delays that could impact the customer."