Private equity investor TPA Capital has bought a controlling stake in Pallet-Track, the Wolverhampton-based pallet network.
Pallet-Track managing director Nigel Parkes, who founded Pallet-Track in 2002, will continue to run the business with fellow director Carl Jones.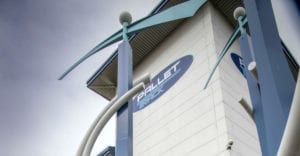 Pallet-Track has almost 90 haulier members and handles some 3.5 million pallets a year. As well as the main hub on Wolverhampton, it has regional hubs in Wigan and Welwyn Garden City.
In the year to 31st January 2018, Pallet-Track's parent company, Palman Ltd, turned over £84.7 million and made an operating profit of £3.6 million.
Parkes said: "From the very beginning it was clear the TPA partnership demonstrated a difference in their culture and nuances which had identical synergies with Pallet-Track."
TPA said it is committed to the long-term development of the Pallet-Track business. Partner Greg Allen said: "We're incredibly excited to be in a position to support Pallet-Track with the next stage of its growth story."