CEVA Logistics has started the process of repaying debt following its recent flotation on the Swiss Six exchange which raised CHF 1.2 billion (£890m).
The group expects to either repay or refinance the majority of its debt over the coming months – its balance sheet at 31st December shows long term borrowings of some $2.2bn (£1.6bn). Finance expenses in 2017 totalled $238m (£176m) which meant that the group made a pre-tax loss of $179m (£132m).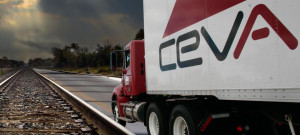 Unveiling its first quarter results, chief executive Xavier Urbain said: "The successful IPO opens a new chapter for CEVA. The deleveraged balance sheet and the strategic investment by CMA CGM will create important growth opportunities. I am confident that we can further improve margins and deliver significant earnings growth in the years to come – our target is to improve Adjusted EBITDA by $100 million in the medium-term."
IN its results, the group said: "Subject to prevailing market rates, CEVA expects to lower average interest rate to c.4.5 per cent compared to the current 6.5 per cent. CEVA intends to execute the refinancing plan in the coming months subject to market conditions."
In the first quarter, the group increased EBITDA by 17.8 per cent to $53m (£39m), on sales up 12.2 per cent to $1.8bn (£1.3bn).
In Contract Logistics, EBITDA was up by $3m to $38m on sales up 10.4 per cent to $987m. The Freight Management division saw sales rise 14.4 per cent to $803m while EBITDA was up $5m to $15m.
Urbain said: "Q1 2018 has shown once more that CEVA is delivering on its transformation with continued growth and consistent EBITDA improvement. We've seen good momentum and had several new business wins. We have further improved productivity and reduced cost."