Specialist property investor Fortwell Capital has sunk £23 million with mid-box industrial and warehouse developer Tungsten Properties enabling the development of a 290,000 sq ft, seven-unit industrial scheme in Witney, Oxfordshire.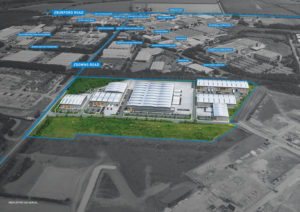 The loan represents the second tranche of a £50 million revolving credit facility which Fortwell agreed with Tungsten Properties in March this year and will be used to finance the development of Tungsten Properties' £186 million logistics development pipeline, amounting to 1.6 million sq ft of high-quality industrial space across the UK.
Nikos Yerolemou, associate director at Fortwell Capital, said: "Although the last few months have brought industry-wide uncertainty, we have remained committed to working with our existing borrowers to ensure progress can be made across their projects.
"Tungsten Properties is well placed to navigate recent headwinds given that market demand for Grade A mid-box industrial space will only grow as a result of accelerated consumer shifts in retail. We expect take-up in the sector to remain strong and, with over 50% of the Witney scheme pre-let, are confident that it will succeed, especially given the shortage of high-quality warehouse space in the area."
Jeff Penman, managing director at Tungsten Properties, said: "We fundamentally believe that the logistics sector is the safest place right now for new property investment to build new space to meet demand and create jobs. The sector has proved its resilience through no change in rents or initial yields, despite the Covid-19 pandemic.
"The pace of structural change from high street retail to e-commerce has been accelerated by Covid-19 by circa 19% of total retail sales in February to 31% in May. This increase would normally take five or so years to reach this outcome. This increase will turn into demand for millions of new sq ft of floor space from businesses and may even strengthen rents and yields."
Tungsten Park Witney, which totals 25 acres, is strategically situated 500m from a new junction of the A40. There are five units with 8m eaves currently available from 20,000 to 46,000 sq ft.
Phase 2 comprises a further 9 acres of development land, available on a design and build basis, up to 200,000 sq ft. Joint letting agents are Carter Jonas and VSL.