Quality Freight has invested some £700,000 in  a Fuchs MHL390 crane for its Ellesmere Port main operation.
The new crane is capable of handling over 400 tonnes per hour on cargoes.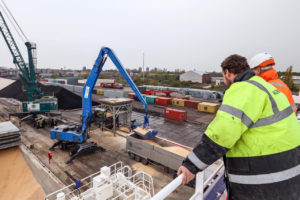 The latest addition will complement QF UK's other cranes – a MHL360 wheeled crane based at its Ellesmere Port terminal, a Liebherr 150 and an RHL340 tracked crane.
Sebastian Gardiner, managing director of Quality Freight UK, said: "This significant further investment in the business will achieve a number of objectives. It will allow us to increase bulk volumes in the port, allow multi-vessel working and enhance customer service through faster vessel turnaround.
"We have seen volumes increase by over 20 per cent during the past 12 months and are extremely confident about business prospects moving into 2018.