Supplier of automation systems RARUK Automation is introducing a new gripper and software feature from its partner Robotiq. 
Robotiq's latest products are the PowerPick gripper and Multipick software feature. PowerPick is described as 'a gripper designed for robust tasks' and, according to RARUK, is 'the only standard vacuum gripper capable of lifting 11.5 kg on a Universal Robots UR10e collaborative robot (cobot)'.
By offering this technology to customers, RARUK believes it can better meet the needs of UK businesses with higher payload and throughput palletising requirements.
With 46 different handling options, PowerPick is designed to offer users more flexibility. It can be used for a wide range of box sizes, shapes, and materials while supposedly being able to cope with conditions like humidity and fine dust.
PowerPick allows up to four grippers to be mounted to a single robotic arm, increasing throughput for applications involving small, lightweight boxes.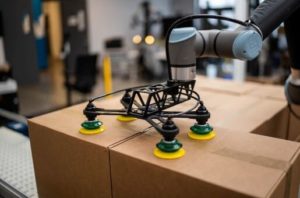 MultiPick is Robotiq's newest software feature, designed to unlock higher end-of-the-line throughput. Enabling a robot to simultaneously pick up multiple boxes, MultiPick supports label orientation and offers users more flexibility by facilitating picking from a wider range of palletising patterns.
A combination of both PowerPick and MultiPick is capable of allowing eight boxes to be palletised at once, with four grippers each lifting two small, equal-payload boxes.
RARUK says that the two new releases will 'make it easier for businesses to manage various production line requirements and advance-equip for future needs'.
RARUK Automation (Stand i324) will be at IntraLogisteX on 28-29 March 2023 at the NEC Birmingham. For more information, visit www.intralogistex.co.uk.