Hornby has returned to competence in key areas of activity such as supply chain, Hornby chief executive Lyndon Davies told shareholders when the company released its results for last year.
The company which makes Scalextric, and Airfix products as well as Hornby model trains, has struggled over the past few years. But in its results for the year to 31st March 2019, it was able to point to a reduction in pre-tax loss from £10.1m to £5.3m.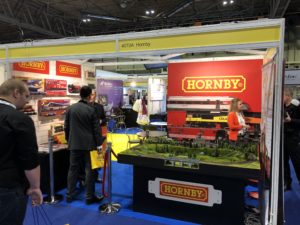 The company's recovery plan has focused on five areas of activity:
a) Ending the discounting that destroyed trust and brand integrity.
b) Adding directly relevant knowledge and experience.
c) Re-engaging with key licensing partners.
d) Getting the design schedule and supply chain humming so the right products were ordered in the right quantities, arriving at the right time and at the right cost: and
e) Frugality – doing more with less and thinking about every penny of spend with respect to how it benefits our stakeholders.
Chairman John Stansfield said: "Overheads have been streamlined and reinvested into more productive uses. Cost savings have been achieved in many areas including rationalising logistics to suit our business and returning to our ancestral home at the Margate site."
Total sales were down from £35.7m in 2018 to £32.8m this year. In the UK sales fell by nine per cent to £25.9 million "as a result of late placement of purchase orders by previous management leading to delays in product supply."
Setting out the recovery strategy, Davies said: "We will continue to optimise these basic building blocks of our business forever. You can always add to and improve talent. You can always get better licensing deals. You can always make your supply chain slicker and more cost effective. There are always ways to save money and do more with less. We will be relentless in our pursuit of perfection."
And he highlighted the importance of inventory management pointing out that year end inventory as a percentage of sales was 33 per cent in 2019. Between 2004 and 2008, this figure remained below 20 per cent.
"Our inventory balance relative to our sales is higher than it was in more normal times," said Davies. "While we are prepared for all these valuable and sought-after models in our warehouse to sell down at their natural rates, there is a lot to be gained from being even more clever in the way we manage our inventory balance."
"Just to be absolutely crystal clear to all our stakeholders reading this annual report – we do not need to discount stock to optimise this position. We have the support of our shareholders and the luxury of a strong balance sheet now. Discounting is truly a thing of the past and we are already seeing trust return as a result of this clear message.
"As this trust returns to the brands, our marketing efforts become more efficient/focused and our Group sales grow then you should see our year-end inventory balances as a percentage of sales tick down," said Davies.