Renovotec is to launch a range of flexible mobile scanners at IntraLogisteX in October.
The specialist in rugged hardware will be showcasing its range of warehouse power products on stand 306 at the exhibition, which takes place on 1st and 2nd October at the Ricoh Arena, Coventry.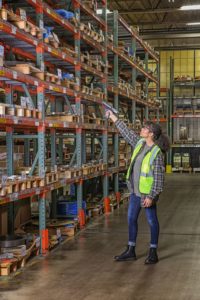 Included in the range is the mobile, flexible-scanning CT40XP and CT60XP computers, Granit ultra-rugged scanners; plus the barcode-perfect PX940 industrial printer.
The CT40XP is a smart, rugged enterprise mobile computer which can capture barcodes from a few centimetres distance to the retail top shelf, up to ten metres away using Honeywell'sFlexRange imager, and also features a device finder that can track missing assets. It can be upgraded to Android 11 and is also built on Honeywell's Mobility Edge Platform.
Meanwhile the ultra-rugged Granit XP scanners offer 10ft. drop spec and  7,000 tumble spec, with IP67-standard dust and moisture sealing. They are engineered to keep running after drops from loading docks, fork lifts and picking trucks and offer high speed scanning with the ability to scan rack labels at up to 10 metres (33 feet).
Finally, the Honeywell PX940 is a smart and rugged industrial printer is a high-performance, low-maintenance industrial printer that can operate without the need for a host computer. Its operational intelligence functions include predictive performance analytics, remote management and label verification technology: bad labels generated by the PX940 that do not meet the required threshold are automatically identified and a new replacement label is automatically printed, ensuring that every barcode is suitable for use.

Be the first to see the new products which will be on public display for the first time on the Renovotec stand (306) at IntraLogisteX on 1st and 2nd October at Ricoh Arena, Coventry.