Rent levels for industrial and logistics sites across the North West of England saw an annual growth of 2.2% to the third quarter of 2019, with a further increase forecast for 2020.
According to the Rents Map at real estate advisors Colliers International, prime rents for Grade A units are hitting highs of £6.50 per sq ft to £6.75 per sq ft in Warrington and Manchester and £5.75 per q ft to £6 per sq ft in Liverpool and Lancashire.
John Sullivan, director at Colliers International, said: "Forecasts see rent levels on prime Grade A sites in key locations in the region could achieve £7 per sq ft in the next 12 months."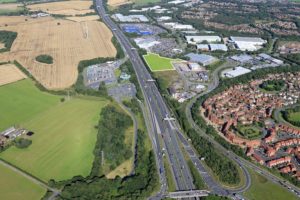 Such locations included Mountpark's Omega complex at Warrington, Airport City Manchester and Haydock 525, where cereal giant Kellogg recently agreed a 20-year lease on a 525,000 sq ft warehouse at circa £6.30 per sq ft.
Sullivan said: "Although demand for large distribution warehouses moderated in 2019 that has to be seen in the context of strong levels witnessed over the preceding two years.
"A lack of Grade A space of 50,000 sq ft to 100,000 sq ft-plus being available for occupancy and a relatively weak pipeline of such developments means that demand continues to outstrip supply, with quoting rents for prime sites in 2020 now at £7 per sq ft for the first time."
The demand for Grade A space was reflected by tenant interest remaining strong, with several units across the North West enjoying a healthy number of enquiries. At Haydock for example, almost 902,000 sq ft of new space is under offer across six units.