A report from ProGlove has revealed that 76% of warehouse floor workers believe that 'having the right people' is essential to maintaining or improving productivity, ranking as the top requirement for productivity in the survey.
With the impact of staff shortages on supply chains being well-documented, recruiting and maintaining effective workers undoubtedly needs to be a focus for organisations in the logistics industry.
The ProGlove survey also found one of the top challenges in the warehouse to be staff exhaustion and issues surrounding fatigue and physical wellbeing, with 42% of staff surveyed reporting this as an issue. This further highlights the need for companies to plan ahead and have clear and effective policies to limit the impact of this on their operations.
Implementing the right technology can make a difference in this regard, with a whole host of innovative solutions available that can reduce the physical strain and exhaustion required of staff in the warehouse.
Warehousing isn't the only area of logistics that is facing staffing issues; boosting recruitment for drivers has been a priority for not only logistics companies, but the UK Government as well. In late March 2023, Logistics Manager reported that the government had extended its subsidised HGV driver training scheme and in December 2022, the Department for Transport (DfT) announced the availability of £100 million in industry and government funding to improve HGV roadside facilities.
Logistics Manager spoke to Tristan Thomas, Chief Executive and co-founder of UK-based courier Packfleet, about recruiting and retaining drivers in 2023.
How important is retaining talent for companies in the logistics and supply chain industry in 2023?
It's incredibly important. There are three barriers to business growth – customers, vehicles and drivers – and loyal reliable drivers are the hardest to come by. We've made it a priority to recruit well and hang on to our people.
Employing our drivers as full-time staff has made it unattractive to jump ship when larger companies offer seasonal joining bonuses. We offer our drivers all the usual benefits of regular employment (parental leave, private health insurance, invites to staff socials etc), which puts us ahead of couriers relying on the gig-economy.
It's as simple as treating drivers as human beings, which sadly isn't industry standard.
Which kind of jobs are most in-demand in the industry at the moment?
Right now it's the quiet period but come Christmas time, getting hold of drivers is very hard – it's why its so important to hang on to the ones you have.
To what extent have staff shortages impacted businesses in the industry and supply chains as a whole?
Having enough drivers at Christmas is vital. We found that when Royal Mail went on strike, a lot of smaller retailers were forced to switch to the likes of DPD.
These large couriers couldn't handle the increased demand, and smaller merchants were left behind during the Christmas rush. This shortage of drivers led to missed deliveries and a loss of customer loyalty for some independent retailers, customers they worked hard to win.
We don't want to disappoint merchants, so only take on what we can actually handle. We have a very sustainable growth model – there is such a thing as growing too quickly. Merchants sign with us because we directly employ drivers as permanent staff, and that driver security puts them at ease.
What new strategies are companies using to recruit and retain talent more effectively?
Our biggest recruiter is referral and word of mouth. Drivers receive a £100 referral fee for bringing a new driver to the business and another £100 when that driver passes their probation. It's a great incentive for existing staff, and a much more effective recruitment tool than traditional job boards.
The best strategy for retention is to make drivers feel they are a valued member of staff, not just a number. We organise social events like five-a-side football, give them a line manager and clear career progression, and we're constantly asking drivers what they would like more of.
These benefits are what put us ahead of the competition, and they soon get discussed with drivers from rival firms out on the road. They realise that the gig-economy doesn't have to be industry standard, and start to consider the switch.
What are companies doing to train new and existing employees?
Drivers are often employed to just deliver parcels, and aren't offered any form of career progression past that. Of course some people are happy to stay drivers, but delivery is sometimes viewed as a stopgap for people wanting a career in a different field.
If someone is looking to move into sales or social media, for example, we want to offer that training. We want drivers to feel part of the company, so we assign them line managers and build out a career path for them – much like any other startup.
It's a road map that offers them a route into other parts of the business, something that's severely lacking from the legacy firms. How are drivers supposed to get invested in the business if the business won't invest in them?
What benefits/incentives are companies offering to help retain talent?
Our drivers are employed as full-time staff, which in practice means all the usual benefits of regular employment like holiday and sick pay. They're paid 30% higher than the industry average, get six months paid parental leave, private health insurance, and we even offer to pay for childminders so staff can attend company socials.
They get free lunch every day they're on shift, and receive £30 a month to spend at any of the merchants we deliver for, allowing them to sample the products they carry.
We recognise the value of good drivers – they're often the only touch for direct-to-consumer (DTC) brands, and it's important for these merchants that customers have a good delivery experience. That's why we have a benefits package that's industry leading.
Traditional office staff would receive this level of benefits, and we believe that should extend to drivers too.
How can technology be used to improve worker satisfaction and how much of an impact can this have on retaining staff?
Not only is efficiency a key part of our business, but it can help lead to work satisfaction too. Our routing system clusters packages to produce a smarter delivery route, and automatically redirects drivers away from traffic. This keeps drivers on stress-free routes, and they aren't forced to speed around London to deliver parcels on time.
It also allows us to soon give drivers preferences on areas they deliver to regularly, which helps with speed of delivery from local knowledge, as well as customer satisfaction from a friendly returning name and face – and that makes everyone happy.
What's really important is to hold explainer sessions of the tech to drivers to show why they are being sent on particular routes. It feels more collaborative, and builds the relationship between warehouse staff and the drivers. There's a real buy-in from drivers after this session.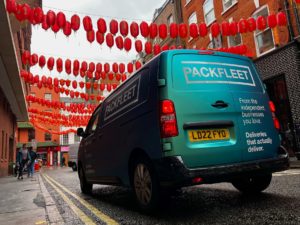 Examples like this show what companies in all areas of the logistics and supply chain industry can be doing to put greater emphasis on driver wellbeing and satisfaction, which could in-turn begin to prevent issues with staff shortages from returning and disrupting the supply chain.
To hear more about this topic, look out for the feature on retaining talent in the May issue of Logistics Manager!