Superdry, with its logistics partner Clipper, has taken the Overall Award in the 2018 Supply Chain Excellence Awards.
The Award was presented at a glittering ceremony before hundred of supply chain leaders in London last night.
Superdry fought off strong competition from some global supply chain leaders. Among the highest scoring entries were Heineken, Keysight Technologies, Ocado and Turkcell. But ultimately, the contenders came down to John Lewis with Knapp, Sky with Unipart, and Superdry with Clipper Logistics.
Innovation was a key theme of the Awards this year and highlighted the dramatic developments in both supply chain thinking and technology that is changing the market.
The Retail Innovation Award went to Ocado with its partner PW Gates, while Shell took the Technology Innovation Award.
The Award for Robotics Innovation was taken by China Post with Beijing Geekplus Technology.
And the Award for Supply Chain Innovation, sponsored by flex, went to HP.
The 22nd Supply Chain Excellence Awards took place at the Park Lane Hilton in London on 6th November.
Com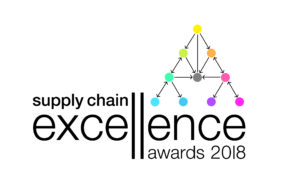 edian Marcus Brigstocke hosted the evening. Brigstocke launched The Late Edition, the late night BBC4 answer to The Daily Show with Jon Stewart. He has hosted and appeared as a panellist on Have I Got News For You.
Awards sponsors include Clipper Logistics, flex, Unipart and BluJay Solutions.
Award Winners 2018:
OVERALL WINNER
Award winner: Superdry with Clipper Logistics
THE LOGISTICS MANAGER AWARD FOR AUTOMATION INNOVATION
Award winner: John Lewis Magna Park with KNAPP
CUSTOMER SERVICE & SUPPORT
Award winner: Co-op Insurance
Highly commended: Jersey Post
DELIVERY INNOVATION
Award winner: Superdry with Clipper Logistics
DEMAND FORECASTING & PLANNING
Award winner: Heineken UK
Highly commended: Hanes with FuturMaster
ENVIRONMENTAL IMPROVEMENT
Award winner: Sky PLC
High Commended: Turkcell İletişim Hizmetleri A.Ş.
ETHICAL SUPPLY CHAIN
Award winner: Procter & Gamble with Salterbaxter
EXTREME LOGISTICS
Award winner: Greenshields Cowie
LOGISTICS INNOVATION
Award winner: Greene King with Kuehne + Nagel
ORDER-PICKING INNOVATION
Award winner: Crown Paints with Voiteq
Highly commended: Vaillant UK with Avery-Weigh Tronix
RETAIL INNOVATION
Award winner: Ocado with PW Gates
THE INTRALOGISTEX AWARD FOR ROBOTICS INNOVATION
Award winner: China Post with Beijing Geekplus Technology
SOURCING & PROCUREMENT
Award winner: Turkcell İletişim Hizmetleri A.Ş.
Highly Commended: Greene King with Waterscan
THE FLEX AWARD FOR SUPPLY CHAIN INNOVATION
Award winner: HP Inc
Highly Commended: Wolseley UK with XPO Logistics
THE CLIPPER LOGISTICS AWARD FOR SUPPLY CHAIN OPERATIONS
Award winner: Princes Foods with CEVA Logistics
SUPPLY CHAIN STRATEGY & DESIGN
Award winner: Superdry
Highly Commended
Ted Baker with XPO Logistics
THE BLUJAY SOLUTIONS AWARD FOR SUPPLY CHAIN VISIBILITY
Award winner: Keysight Technologies
TECHNOLOGY INNOVATION
Award winner: Shell
Highly Commended: Employ Recruit UK with Haul-it Nationwide
THE LOGISTICS MANAGER AWARD FOR WAREHOUSE INITIATIVE
Award winner: John Lewis Magna Park Campus
Highly Commended: Award winner: IMDAAD LLC
THE UNIPART LOGISTICS AWARD FOR TEAM OF THE YEAR
Award winner: Ted Baker with XPO Logistics
RISING STAR
Award winner: Kara Hughes, Sky PLC