Knapp, Still Materials Handling and Samson Nano are just some of the winners in the UK Intralogistics Awards, which were presented yesterday, to recognise outstanding technology for intralogistics operations.
The winners were presented with their Awards at the IntraLogisteX show in Coventry yesterday. The Awards attracted entries from many of Europe's leading suppliers of intralogistics solutions.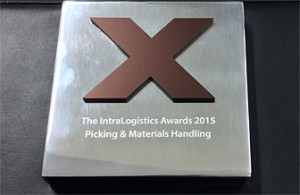 Knapp took the Gold Award for Automation with its solution for John Lewis. The judges praised the scale and complexity of this solution – enabling a major retailer to adapt its supply chain to meet radical changes in demand. The modular nature of the solution impressed the judges as did the future proofing.
The Silver Award went to Still Materials Handling while Gebhardt ECS won the Bronze.
Still Materials Handling also won the Gold Award in the Picking & Materials Handling category, with Sovex taking the Silver.
ROS (UK) won the Gold Award in the Storage Section for a hydraulic tool that, by combination of a precision-formed die and controlled hydraulic pressure, reforms damaged racking uprights back to their original shape and strength – while the racks are under full pallet load.
The Silver Award in this category went to BITO Storage Systems and the Bronze went to SEC Storage.
The winner of Gold Award in the Warehouse Infrastructure & Services category was Samuel Grant Group for Samson Nano – an innovative pallet wrapping solution. The judges liked the fact that the customer paid for the number of pallets you wrap.
The Silver Award in this category went to ROS UK and the Bronze went to Box Sizer.
The Gold Award in the category IT & Software: Warehouse Management And CRM was won by Advanced Supply Chain for its an agile "End to End" software platform. The judges commented on the strong reliability and accuracy of the solution and ease of implementation.
The Silver Award in this category went to Advanced Business Solutions and the Bronze went to Flextronics.
The Packaging category Gold Award was won by Ranpak for a one-of-a kind packaging material used for wrapping products that combines the elements of product protection and in-the-box presentation of the wrapped items. As a 100 per cent paper solution, it is a sustainable alternative for plastic bubble wrap.
The Silver Award in this category went to Box Sizer and the Bronze went to Packsize.
The Gold Award in the IT – Transport Management category was won by Argus Supply Chain Suite, while TranSend ePod took the Silver and DPS International walked away with the Bronze.