In the fast-paced realm of online commerce, efficiency is king. Warehouses are no longer just storage spaces; they've evolved into pulsating hubs of activity, needing to streamline operations and maximise every square inch to cater to soaring demands. Add the challenges of limited space availability and surging rents, and you've got an industry crying out for innovation.
Amidst this, Hai Robotics, hinting at a transformative solution that promises to revolutionise the industry. Its latest offering, the HaiPick System 3, coupled with the world's pioneering telescopic grapple hook ACR – the HaiPick A42T-E2, is poised to redefine warehouse automation. These two new innovations address customer concerns around increasing storage density and performance at a smaller warehouse footprint.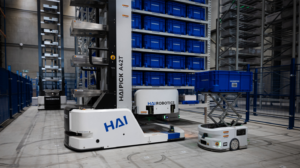 The Game Changer: HaiPick System 3
The HaiPick System 3 is not just another addition to the warehouse automation repertoire; it's a transformative solution. Offering an unparalleled storage density of up to 50 totes per square meter, it's an answer to the age-old issue of space scarcity. Furthermore, its ability to elevate worker efficiency by a staggering six times is nothing short of a game-changer.
A distinctive feature of this system is its harmonious integration of the telescopic Grapple Hook ACR with the lightning-fast autonomous mobile robots (AMR), known as the Fast-transit AMR. These AMRs can dart around at impressive speeds of up to 4 meters per second, ensuring that workflow efficiency isn't just maintained but consistently optimised.
Perhaps the most compelling feature of the HaiPick System 3 is its collaboration mechanism. While ACRs are meticulously designed to handle containers from the top to the bottom of shelves, AMRs focus on containers at the base, shuttling between shelves and workstations. This choreographed operation, which effortlessly manages over 1,000 robots simultaneously, is the epitome of operational synergy, ensuring swift, seamless, and high-performance storage operations.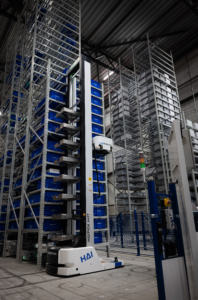 A new Way of Picking – World's First Telescopic Grapple-Hook ACR
Heralding a new era in picking technology is the Telescopic Grapple-Hook ACR. Central to its design is the ChainPick technology. This innovation boasts a hook that, with precision and speed, picks up containers in a mere 2.7 seconds up to 10m high. Such rapidity is not just for show; it translates to tangible benefits. Totes can be stored up to five depths, which greatly streamlines the order assembly and placement process.
Moreover, the ChainPick technology promises a leaner, more efficient operational approach. By employing a hook to pick up containers, it presents a simpler, quicker alternative to traditional methods. The totes themselves are connected by hooks at the front which connect to the back of others, leaving 0mm of space in-between totes and reducing space between containers by up to 60%. This allows for chain-picking, whereby totes at the front of a chain can be temporarily stored elsewhere on the rack or on one of the ACR's eight storage trays, while the desired tote is moved down to the bottom shelf. From the bottom shelf of the rack, the tote is then picked up by an AMR running underneath the system and transported to a picking station. This means the robot doesn't have to spend unnecessary time calibrating – it's always ready to go, resulting in faster and more efficient picking.
Keeping your staff safe with the Hai Safety Vest
Hai Robotics' commitment to safety is uncompromising. In addition to adhering to rigorous CE and UKCA safety standards, the company has innovated the Hai Safety Vest. This groundbreaking vest, embedded with RFID technology, introduces a new era of interaction between workers and robots.
Unlike traditional settings where robots would operate secluded behind safety barriers and entire operations have to stopped for maintenance or a particular issue, the vest allows authorised personnel to seamlessly work alongside robots, even during maintenance, without halting production. Should a worker wearing the vest come within a certain radius of a robot, the latter either decelerates or stops entirely, ensuring worker safety remains paramount. This revolutionary safety mechanism, backed by both CE and UKCA certifications, obviates the need for extensive system shutdowns during interventions.
Interview with Sean Wang, Sales Director at Hai Robotics EMEA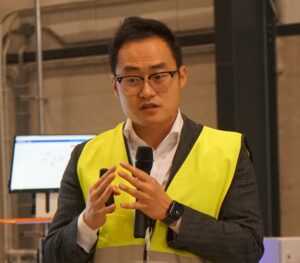 At the Hai Robotics' Innovation Centre in Rotterdam, Sean Wang, the EMEA Sales Director, shed light on the drive behind these innovations. "Balancing storage density with performance has always been a tightrope walk," Wang shared. This equilibrium was the impetus behind Hai Robotics' novel offerings.
When probed about how the HaiPick System 3 stacks up against traditional cubic automated storage and retrieval systems (AS/RS), Wang highlighted its unmatched flexibility. "In conventional systems, accessing a bottom tote requires removing everything above. With our system, you pick what you need, with minimal disruption," Wang elucidated.
Wang's emphasis on flexibility resonates even more in our current unpredictable market dynamics. In his words: "We live in an unpredictable world. Anticipating customer demands is more challenging than ever."
With a presence that spans continents, from Europe to Asia and North America, Hai Robotics is carving a niche for itself. Its clientele, a diverse mix from the realms of fashion, retail, electronics, pharmaceuticals, and 3PL, stands testament to their versatility.
To find out more about HaiPick System 3 and the Telescopic Grapple-Hook ACR, visit www.hairobotics.com/project-nexus
Learn more about Hai Robotics warehouse automation solutions at www.hairobotics.com