The Rhenus Group has moved into the aeronautics market after buying Spanish logistics specialist LTK.
LTK, headquartered in Madrid, has locations across Spain and specialises in providing logistics for the aerospace and automotive industries. Customers include the Airbus Group and Alestis Aerospace.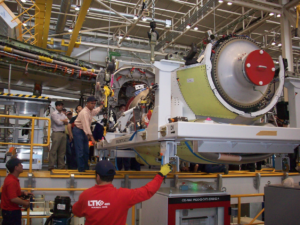 LTK handles supply chain management, procurement, and quality checking, as well as industrial, and aircraft ground handling. It performs more than 110,000 technical checks for its customers every year, with its facilities in Cádiz and Seville supplying the production sites of Airbus since 2004, handling more than one million incoming and outgoing movements of goods per annum.
It has more than 279,862 sq ft of warehousing space available in the region.
Andreas Plikat, MD of Rhenus Warehousing Solutions Europe, said: "LTK's warehouse sites will form the basis for the further expansion of Rhenus Warehousing Solutions in Spain.
"Working together, we hope to tap into growth opportunities in the Spanish aerospace sector. We can also launch operations in the European aeronautics market through the newly acquired expertise and the support of LTK."