There is a revolution going on in logistics, Russell Holmes of robotics giant ABB told delegates at the Robotics and Automation Exhibition this morning.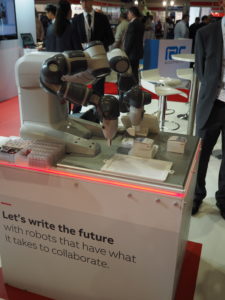 Holmes outlined the challenges facing the logistics operations with market demands putting more and more pressure on distribution centre operations. He pointed to the prise in e-commerce, increasing labour costs and labour shortages.
And he went on to look at how automation is playing an increasing role in warehouse operations, particularly the use of robots in decanting goods, along with some robotic picking and sequencing and palletising for despatch.
ABB is focusing on the bottlenecks in the warehouse processes where the use of robots can make a difference, Holmes told delegates.
He also looked at the development of cobots – collaborative robots. There currently four levels of collaboration, he said, starting with caged robots that operated completely separately to humans. The next level is co-existence: there is no fencing of the robots but they still work in their own space and do not interact with humans.
The third level is synchronisation where the robot and human work on the same product but not at the same time – this is where most cobots are at the moment.
Finally, there is co-operation where the robot and the person are working on the product at the same time.
ABB has also developed a process of virtual commissioning that allows systems to be deployed more quickly and efficiently. This allows up to 90 per cent of the commissioning to be completed off-line.
Holmes highlighted some of the the advantages of robotic systems including reliability and robustness, flexibility and high throughputs. And, he said, it addressed the labour cost problem with a return on investment of less than two years.
The Robotics and Automation Exhibition is taking place at the Arena MK in Milton Keynes today and tomorrow.