Royal Mail is to roll out 1,400 parcel post-boxes across the UK following a trial last year.
The idea is that small businesses and marketplace sellers can post pre-paid parcels in the same way that they currently post letters. They will also allow customers to post some barcoded returns parcels back at any time, seven days a week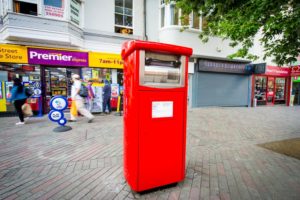 Over a six month period from August, it will convert existing meter boxes which include a wider aperture and secure design.
Head of campaigns Mark Street said: "The wide scale introduction of parcel post-boxes is one of the many ways we at Royal Mail are looking to make the lives of our customers easier. The parcel post-boxes trial last year was a success, and we hope that the wider roll-out gives added flexibility to online sellers who might be running a business in their spare time and not keeping regular office hours."
The launch marks the first major change in use for the UK post-box in the last 160 years. The first ever UK post-boxes were trialled in Jersey in 1852. They were subsequently introduced across the UK in 1853 by Anthony Trollope, the novelist who was a senior GPO executive.
Royal Mail to provide delivery time notifications day before