Royal Mail is trialling parcel post boxes that would allow customers to post pre-paid parcels in the same way that they currently post letters.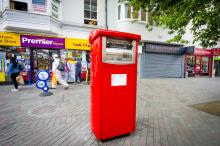 The trial of 30 parcel post boxes is taking place in Northampton and Leicester and will last until 5th November.
For the trial, 17 parcel post boxes will be sited in Northampton and 13 in Leicester. At the end of the trial, a decision will be made whether or not to introduce some parcel post boxes in various locations across the UK.
A spokesperson for Royal Mail Parcels, said "The trial is aimed at giving more flexibility to online sellers who might be running a business in their spare time and not keeping regular office hours."