A massive parcel hub let to DHL in Runcorn has sold for £6.6 million more than it was bought for in 2016, representing a 24% increase in just four years.
The 651,410 sq ft warehouse was sold by Atlantic Leaf for £34 million to Singapore based alternative asset management firm Elite Partners Capitol. It was bought by a subsidiary of Atlantic Leaf for £27.4 million in 2016 from Oxenwood Catalina, a joint venture between Oxenwood Real Estate and Catalina Holdings (Bermuda) who in turn bought it for £20.98 million from DHL in a sale and leaseback agreement in 2015.
The property, which is let to DHL until 2024, has a passing rent of £3.20 per sq ft.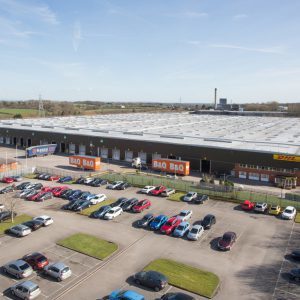 DTRE acted for the Oxenwood Catalina in 2015 while CBRE/B8 Real Estate acted for DHL. CBRE acted for Atlantic leaf on the acquisition of the property in 2016 while M1 Agency acted for Atlantic Leaf on the sale of the property to Elite Partners Capital, which acquired the warehouse for its Elite Logistics Fund which was launched in January this year.
Logistics and industrial warehousing is considered a safe bet for investors worldwide due to changing shopping habits which continue to drive the market regardless of political or economic turbulence such as Brexit and the coronavirus pandemic.
Enoch Tan, portfolio director of The Elite Logistics Fund, said: "Rapid urbanisation and changing consumer behaviour has propelled a strong demand for logistics services in Europe. We have confidence in the fund as logistics assets tend to provide more stable and defensive yields and are less sensitive to volatility and economic disruptions."
The Elite Logistics Fund targets investment opportunities in the EU and the UK's logistics sector, tapping into the region's vast consumer market and logistics space, driven mainly by changing consumer trends and fast-growing e-commerce sector in Europe.
Elite Logistics Fund will hold more than four million square feet of logistics assets in Poland and UK.