Sainsbury's is to open five mini Habitats as well as 20 Argos digital concessions to its stores following completion of its acquisition of Home Retail Group.
Mike Coupe, Chief Executive of J Sainsbury, said: "I am delighted to be able to quickly capitalise on the benefits of our combined group by opening more Argos digital concessions in our stores and introducing the Mini Habitat format to our customers. Being able to shop across all three brands under one roof will make our customers' lives even more convenient and offer them incredible choice."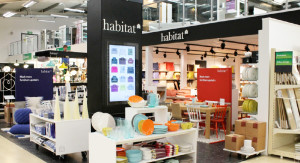 It expects to have 30 Argos concessions in operation it time for Christmas and says this will give customers access to 90,000 products under one roof.
The Mini Habitat stores will include more than 600 products designed in-house by the Habitat design team in London. Clare Askem, managing director of Habitat, said: "Sainsbury's offers the Habitat brand significant growth potential."