Sainsbury's has seen its business change "fundamentally" during lockdown, with digital sales more than doubling in recent weeks.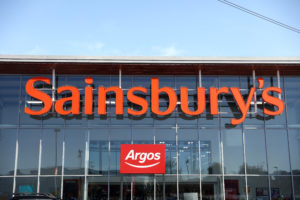 Overall grocery sales at the second largest supermarket in the UK were up 10.5%, with total retail sales up 8.5% during the three months ending 27 June.
However online grocery sales grew 87% year-on-year, with orders increasing from around 370,000 to over 650,000 per week. Furthermore, Sainsbury's said that some 50% of new online grocery customers were new Sainsbury's customers.
The quarter also saw it roll out its one-hour grocery delivery service Chop Chop beyond London to some 15 cities across the UK.
Argos growing 10.7% year-on-year, with home delivery sales up 78% and click and collect sales up 53%.
Chief executive officer Simon Roberts said: "Our business has changed fundamentally from four months ago. We have more than doubled our weekly sales of online groceries in recent weeks and Argos sales were strong while operating as an online-only business for almost twelve weeks."
However, he added that sales of clothing and trading in city centre convenience stores were all significantly down year on year as a result of lockdown.