Saint-Gobain Isover, the building and technical insulation manufacturer, has extended its contract with Bibby Distribution.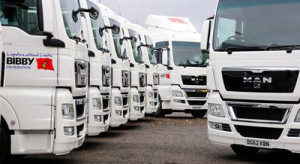 David Lydon, supply chain manager at Saint-Gobain Isover, said: "We've worked with Bibby Distribution for many years and we've found them to be flexible and able to respond to our needs quickly and efficiently. The contract has been renewed because Bibby Distribution continues to deliver a value for money service, while being highly proactive on health and safety, and committing to deliver on-going improvement."
The two-year deal extends a deal first signed in October 2010. Bibby will introduce a number of new measures to increase safety, sustainability and efficiency, including deployment of a dedicated Kalmar distribution tractor on site that presents trailers for loading at Isover's warehouse facility in Runcorn. The unit replaces an older tractor unit and will be easier and more cost-effective to maintain.
The Kalmar's cabin provides 360 degree visibility and eliminates the need for the driver to continually enter and exit the vehicle when changing trailers.
In addition, eight tractor units used on the contract are to be replaced with Euro VI MAN TGX 26.440 units, which deliver improved fuel economy and cleaner emissions.