SAS and the University of Sheffield's Advanced Manufacturing Research Centre (AMRC) are to work together on Artificial Intelligence technology for manufacturers that can respond to supply chain delays by altering production methods.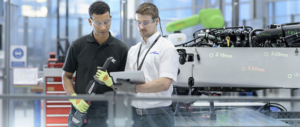 SAS said that with manufacturers  increasingly using connected devices such as cameras and assembly line robots the large amounts of data produced could be collected and analysed by AI.
This data, it said, could help manufacturers predict when maintenance is required to reduce downtime and respond to delays in the supply chain by altering production methods.
Tim Clark, head of EMEA IoT Commercial, SAS said:"Manufacturers should not be thought of as driven by data, but instead, like other industries, driven by making better decisions faster.
"Insight is the most valuable asset manufacturers can possess today. From insight comes stronger decisions and more targeted actions towards achieving business goals.
"Partnerships like the one SAS has entered into with AMRC can only accelerate innovative use of data and analytics, reducing time consuming and resource draining processes."
The AMRC is comprised of more than 125 member organisations including Rolls-Royce, Siemens, Solar Polar, Boeing and Airbus.