Scania is targeting the urban delivery market with a new low-entry truck cab, the L-Series, which can "kneel" to make it easier to get in and out of.
Low entry truck cabs are common on refuse vehicles, but Scania sees demand growing in city delivery operations.
Henrik Eng, product director, urban, said: "The L-series really comes into its own in heavy traffic, where many different road users have to interact with one another.
"Being more on a level with your surroundings, while also having a well-designed boarding step, is appreciated by drivers. There is a clear trend towards low-entry cabs for trucks operating in the city and they are now in demand not only for refuse trucks but also for applications in construction and distribution."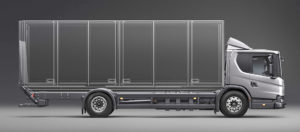 The low datum height of the L-series helps the driver detect vulnerable road users such as cyclists and pedestrians more easily. The driver's vision can be further assisted by the fitting of an optional Scania City Safe Window in the passenger door.
A low-placed window in the passenger door enhances the driver's ability to detect vulnerable road users such as children, cyclists and pedestrians in the immediate vicinity of the vehicle.
"Drivers working in busy cities need all the help they can get so that the safety margins are always on their side," said Eng. "A simple, analogue window in the door makes more of a contribution than you might expect while also reducing stress levels. Solutions involving cameras and sensors do not in any way reduce the value of being able to see and even establish eye contact with other people in traffic."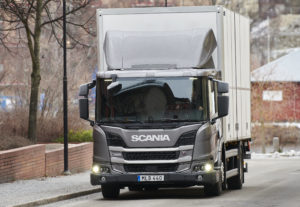 The L-series is powered by Scania's updated 9-litre engine, which is available in three different power levels for diesel.
During 2018, Scania will also add its 9-litre gas engine in two power levels (and for both CNG and LNG) to the engine range for the L-series. All engines can be combined with Scania Opticruise or with an Allison automatic gearbox.
The optional kneeling facility permits single-step entry via a floor well, with the cab floor height itself being approximately 800mm from the ground. Without kneeling, a second boarding step is fitted, with the cab floor height being approximately 930mm. Movement around the interior is assisted by a passageway in front of the engine tunnel connecting the driver and passenger areas of the cab.