Crown Agents walked away with the 'Healthcare and Pharmaceutical Supply Chain Excellence Award' at the Supply Chain Excellence Awards last Monday night, 8th November, held at the Hilton on Park Lane. And it was a project that impressed every single judge in a category within which, arguably, every single entry had winning credentials. The award was presented to cheers from the 500-strong audience by Richard Hunt, Chairman of the Cystic Fibrosis Trust.
With experience in rapid response logistics, particularly humanitarian and health crises, Crown was contracted to form part of the new Covid-19 Response Support Cell, led by the UK's Foreign, Commonwealth, and Development Office (FCDO). Working alongside Governors, Chief Medical Officers of the Overseas Territories, and Public Health England, Crown formed a rapid but robust health supply chain in less than a month.
But it's the finer details of what that entailed – the logistics of serving the Overseas Territories with the time-sensitive nature of some of the cargo – that ultimately led to this being declared the winner by the awards judging panel.
"This was a brilliant feat of logistics to reach overseas territories to deliver Covid vaccines and PPE," the judges declared. "This was a highly impressive entry that demonstrated the tenacity and resilience to overcome extraordinary challenges during the pandemic. This was around problem solving more so than technology and innovation: how do you source, how do you engage people to fulfil the transport legs, especially as the test kits and vaccines needed to be temperature controlled?"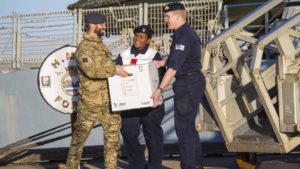 Over the course of the response, Crown Agents procured, quality assured and delivered almost two million items of vital PPE to frontline staff working in the Overseas Territories – with the first batch of items dispatched within just four days. As the virus took a grip, though, the priority shifted to the shipment and distribution of essential vaccines.
However, with no pre-existing cold chains suitable for transporting the vaccines, and limited storage facilities on the islands, ensuring continuous quality of goods was of primary concern. It was therefore the Support Cell's responsibility to protect and maintain the integrity of the pharmaceuticals in 2-8 degrees and -70 degrees (passive packaged) temperature conditions from departure in the UK, right up until patient inoculation.
Using extensive supply chain mapping and contingency planning, Crown Agents could mitigate any challenges caused by a withdrawal of international air services and deliver a total of 3,475,154 commodities to the Overseas Territories without delay. Various modes of air transport were called upon to complete 1,166 shipments, including chartered flights booked directly by the Territories, UK Ministry of Defence flights, commercial airfreight, and 10 air charters arranged directly by Crown Agents.
Almost all of the 272,029 citizens in 12 territories – which includes Anguilla, Ascension Island, Bermuda, British Virgin Islands, The Cayman Islands, Falklands, Gibraltar, Montserrat, St Helena, Turks and Caicos Islands, Tristan da Cunha, and Pitcairn Island – benefitted from an Oxford Astra Zeneca or Pfizer vaccination.
The case of the Pitcairn Islands, with just 47 residents, perhaps highlights the determination of the support effort best. Vaccines had to be flown 4,500 miles from Heathrow to Dubai, followed by an onward flight of 3,600 miles to reach Singapore. From there, a final flight was arranged travelling a further 5,200 miles to Auckland, New Zealand, from where they were transported for three hours by truck to the port of Tauranga. The cargo was then transferred to the supply vessel, 'Silver Supporter', for a two-week journey, sailing 3,400 miles to the archipelago, deep in the South Pacific.
What they said… We are extremely proud to have played a vital role in better protecting more than 270,000 citizens of the British Overseas Territories from Covid-19 infection. Due to our exceptional healthcare and pharmaceutical supply chain expertise, we were awarded a new 'Vaccine Sharing' contract to deliver four million doses to 11 different countries in just 4 weeks!
What we said… The objective was to give the Overseas Territories the same access to Covid care as the UK mainland and Crown's efforts prevented significant outbreaks in these OTs, which potentially could have wiped out entire populations. It's amazing to have got the service to such far-flung places!
For sponsorship opportunities for the 2022 Supply Chain Excellence Awards, please click here