The award for 'Supply Chain Operations – Best Use of Technology' at the Supply Chain Excellence Awards on Monday 8th November went to the relatively new company, Chartersync, which submitted its entry alongside aviation specialist RVL Group. As well as being innovative, the company itself has an interesting back story, which intrigued the judges.
The trophy was presented by one of those judges, Jim Spittle, former chair of NHS Supply Chain, who, given his long-time expertise, was also adjudicating in the final awards process.
"Market brokerage – simplifying and speeding-up a bureaucratic and complex process by digitising it – has clear commercial benefits to users, but in qualitative rather than quantitative terms," the judges believed. "In terms of innovation, a key factor for us, we thought this was strong: the secret was pulling three bits of external tech together, including real-time aircraft tracking and capacity load planning."
CharterSync is an air cargo charter booking platform, designed and developed by two pilots who identified the need for smart technology to expedite the process of targeting the most suitable aircraft for time-critical cargo. The technology accurately matches cargo loads to the most suitable aircraft in real-time, offering vital time savings for air cargo charter flights.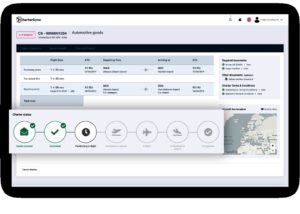 CharterSync has only just completed its second year of trading but has nevertheless surpassed all expectations. What its platform does is transform traditional outdated practices to make them far quicker and more efficient and this has subsequently resulted in hundreds of flights being processed through the platform with some of the top 10 freight forwarders in the world. From an initial charter request, the patent-pending technology can locate suitable aircraft in less than 30 seconds. Providing a full end-to-end process, the platform allows the capability to manage new charter requests all the way through to completion, with full flight monitoring and operational support.
Judges were also impressed with how the technology assisted humanitarian operations during the pandemic. Focusing initially on the just-in-time sector, the CharterSync platform had to rapidly respond with the onset of Covid-19. The company was one of the first to respond with the co-ordination of the first Antonov-124 flight from China to Italy, delivering millions of face masks and
urgent medical relief to be used by frontline hospital staff. With the global shortage continuing, the platform further responded with the facilitation of a weekly Boeing 747 air bridge between China and France delivering vital humanitarian relief. Clearly demonstrating operational efficiency, the platform exceeded expectations to deliver worldwide humanitarian support.
The demand for such a platform is clearly demonstrated in the company's growth, evident especially when comparing Q4 from 2020 with 2019. The platform achieved upwards of 150 confirmed charters a month for this period during 2020. Furthermore, the month of November 2020 resulted in an increase in confirmed charters by more than 800% when compared with the corresponding month from 2019.
Although there was a dramatic increase in total flights performed, there was also a significant uptake from new operators using the platform, which gave access to additional aircraft capacity to satisfy customer needs. Interestingly, there was also substantial increase in flights performed on aircraft with a max payload of 20 tonnes and above, further demonstrating the growth in the platform and capability to handle large and more complex operations.
What they said… We believe we have shaken up the air cargo industry, capturing the market with our first-of-a-kind online platform used to scour the market and locate the best aircraft options for a given charter request, within minutes. Now performing aid relief flights across the globe, we have proven our team can operate at the highest level, supported by world-leading technology.
What we said… This we felt was the right product for the right time in a Covid marketplace where air cargo capacity changed overnight. There are clear commercial benefits and a definite niche for such a solution. RVL Group was impressed and so were we.
For sponsorship opportunities for the 2022 Supply Chain Excellence Awards, please click here