The supply chain's impact on global GHGs is well known so it's up to some smart solutions providers to help minimise the industry's impact on the environment, particularly in light of the focus on transport and CO2 targets at COP26 in recent weeks.
That's why it was particularly fitting that sennder claimed the 'Technology Supply Chain Excellence Award' at the Supply Chain Excellence Awards on Monday 8th November.
The ceremony took place at the Hilton on Park Lane with more than 500 people in attendance. Perhaps highlighting that we are not out of the woods yet with the pandemic, sennder unfortunately could not be in attendance, so the award was presented – and received – by Logistics Manager Editor, Nick Bradley.
Through its proprietary technology, sennder directly connects enterprise shippers with trucking companies, bringing greater transparency and efficiency. An astounding 33% of all freight journeys are 'empty runs' and more than 50% run at half capacity. Digital road freight forwarder, sennder, though, significantly reduces empty miles by using data and real-time tracking to pair the nearest carrier with the load. The platform then suggests the most efficient route to the next destination.
The sennder platform currently comprises 12,500 trucks servicing 10 German DAX 30 and 11 Euro Stoxx 50 shippers – moving more than one million truckloads in 2021. Clients include AB InBev, Coca-Cola and Unilever. The judges were especially impressed with the results achieved with the Italian postal service and Italy's largest logistics operator, Poste Italiane. Through the joint venture, sennder has helped the business save 6% of its €100 million annual spend.
"Load clearing platforms are not a new concept, but we thought the sennder business model and functionality of the platform was very innovative," noted the judges in their assessment. "Data is the differentiator which is enabling sennder to disrupt a traditional market."
Aside from the platform, sennder is also looking at the bigger environmental picture and exploring how it can make freight increasingly sustainable. In its presentation to judges, it acknowledged that, currently, the vast majority of trucks still run on fossil fuels – to address this, the company has a pragmatic short-, medium- and long-term net-zero strategy.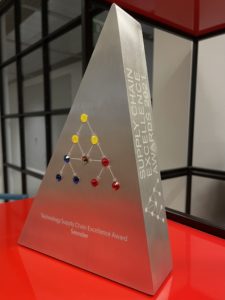 sennder is offering low-carbon HVO fuel across most of Europe and B100 in France – advanced low-carbon fuels can reduce carbon emissions by up to 90% when compared with fossil diesel. The technology specialist also offers carriers the option to ship loads using low-carbon fuels (shippers front the bill and the carrier fills up using the requested fuel). The company also provides shippers with visibility of their emissions and, as the platform grows, it will provide shippers greater insight and more access to low-carbon fuelling stations. And in the longer term, sennder is exploring options to get electric- and hydrogen-powered vehicles onto the platform.
Current and future big picture challenges including supply chain disruption caused by Covid, driver shortages, Brexit, electric vehicles, etc, mean this is a dynamic market wherein capability to real-time plan and adjust plans is essential. "sennder's technology provides a platform for industry environmental and sustainability innovation, including route optimisation to reduce travel, significant reduction of empty miles by using data and real-time tracking to pair the nearest carriers with the loads, visibility of emissions, and advanced fuels coverage including HVO Biodiesel and B100 Biodiesel," the judging panel added further.
What they said… Since we were founded in 2015, we have outlined our vision to make freight fit for a sustainable future. By using data to optimise route efficiency, we can reduce the environmental impact of road freight and decrease the cost of transportation.
What we said… This was a highly innovative technology solution that has brought optimisation, efficiency and sustainability gains to the logistics industry. It integrates large and smaller carriers to reduce their costs and improve the visibility of their operations supported by high-quality data.  This solution has significant potential to transform the carrier industry.
For sponsorship opportunities for the 2022 Supply Chain Excellence Awards, please click here