Claiming the Urban Logistics prize at the Supply Chain Excellence Awards this year was Guy's & St Thomas' NHS Foundation Trust with CEVA Logistics – an announcement that was met with rapturous applause from those in attendance at the Hilton on Park Lane on Monday 8th November.
In a competitive category, the winner was revealed by special guest host, Shaun Williamson ('Barry from Eastenders), and the award was presented by John Thornton, Editor of Logistics Manager's sister publication, CiTTi magazine.
The collaboration between CEVA Logistics and Guy's and St Thomas' NHS Foundation Trust began in 2019 when CEVA established a sustainable logistics hub at Dartford. Within 20 miles of Central London, it allowed provision of new inbound consolidation services to multiple customer locations including Guy's and St Thomas' hospitals.
This was followed by river logistics in June 2021, involving partners including the Port of London Authority, Livett's (vessel provider) and Absolutely (courier). Together, CEVA and Guy's and St Thomas' launched trials of deliveries to the inner city via river boat, transferring goods such as clinical supplies for operating theatres by electric vehicle or cargo bike to Butler's Wharf from Dartford International Ferry Terminal.
"The riverboat pilot forms a key part in our ambition to remove thousands and thousands of truck deliveries from Central London roads each year," commented David Lawson, Chief Procurement Officer at Guy's and St Thomas'. "We also want to encourage and support other organisations to adopt the use of zero-emission delivery models to improve air quality for the communities that we serve."
The need for such a novel idea is wrapped-up in the fact that there are more than 40,000 deliveries to the hospital annually and 90% of the delivery vehicles were arriving at the hospitals' delivery bays. This resulted in an extremely busy delivery area while the limited space and queuing delivery vehicles were resulting in consequent delays, congestion and poor air quality.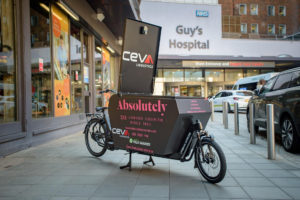 "The riverboat trial firmly supports our commitment to sustainable and ethical supply chains," representatives from CEVA Logistics told the judging panel. "As part of what we call 'responsive logistics', we constantly look for smart, alternative solutions to improve our carbon footprint and reduce noise and air pollution, specifically when operating in urban areas."
The service could eventually operate on a much larger scale, not only removing trucks from London's roads but providing a reliable delivery route into London during the day.
The Trust's three delivery trucks currently travel around 1,500 miles a week. For each truck removed from the road, approximately 708kg of CO2 could be saved every week. For Guy's and St Thomas' alone, this will help it work towards its aim of reaching net-zero-carbon emissions by 2030, while at the same time supporting the Mayor of London's aim to reduce the number of lorries and vans entering Central London in the morning peak by 10% by 2026.
"Overall, this was an excellent project – bold and different and a great example of collaboration between two large enterprises driving meaningful innovation," the judges confirmed after their deliberations.
What they said… This scheme is a great example of the river's potential as a green superhighway. It's a win-win situation – the tidal Thames can help rebuild the economy post-pandemic and both reduce carbon emissions and air pollution in the capital.
What we said… The use of riverways, HVO-powered boats and battery-operated cycles for last-mile delivery ticked the right boxes for this category. It was leading edge in terms of the use of 200 3D printers, too. The benefits for city dwellers and the hospitals are clear and although it was a small-scale project, it was highly innovative and demonstrated the benefits of working in partnership across industries to find solutions.
For sponsorship opportunities for the 2022 Supply Chain Excellence Awards, please click here