Sealed Air has launched the AUTOBAG 850S Paper, an automated bagging solution designed specifically for paper bags, today [28 March] at the IntraLogisteX exhibition in Hall 6 of the NEC, Birmingham.
The AUTOBAG 850S Paper takes elements from the AUTOBAG 850S, which has been used by "lots of customers around the UK and in Europe" for several years, and tailors it specifically for paper bags rather that plastic bags.
Duncan Hall, AUTOBAG's UK&I Commercial Director, explained that the new machine is "the paper version which now introduces paper as an option for customers to pack into.
"The AUTOBAG machines are all based around the same basic premise of presenting an open bag to an operator for quick and easy loading".
This new machine isn't the only thing on show at Stand i800. Sealed Air is also showcasing its I-Pack boxing solution and a range of protective void fill materials.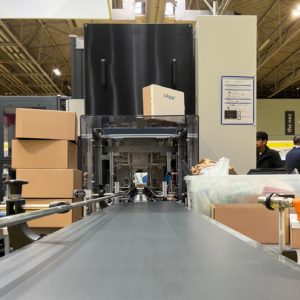 One of the biggest priorities for Sealed Air as the company looks to the future is sustainability. Hall believes that Sealed Air's products can "address the questions about sustainability", adding: "The plastic bags we supply can be made with up to 98% recyclable content and obviously we've got this paper offering now, which addresses that too".
Hall is thrilled with the how the IntraLogisteX exhibition has started, saying: "It's been a busy show. Its really encouraging. There's lots of people on the stand and the quality of the leads that we've been taking has been really good too."
Looking forward to the rest of today and tomorrow, he is hoping for "more of the same" and plans to "catch up with existing customers and have conversations with new customers too".