Fashion distributor Selective Marketplace has purchased a 66,000 sq ft warehouse unit from Crosslink 646 in Loughborough, developed by Rotherhill.
Hannah Dashper, operations director at Selective Marketplace, said: "Our new warehouse at Crosslink has been designed to our detailed specification.  It will enable us to consolidate all of our stock into one location which will lead to dramatic improvements in our operating efficiencies and give us much needed room for further growth.
"The extra office space will facilitate our new in-house call centre from which we aim to serve all our key markets around the clock.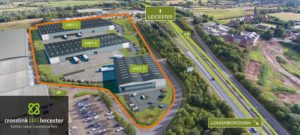 "The process of acquiring and developing the land through Rotherhill has been straightforward with us taking possession of the build only eight months after agreeing the deal."
The purchase comes after the completion of two buildings on site of 66,000 sq ft and 29,000 sq ft and simultaneous completion of the sales to expanding local occupiers.
Tim Gilbertson, an agent of the scheme said: "After what has been a busy year so far in terms of deals and construction on site, we are delighted with these two completions.
"This leaves us just one further plot where we can accommodate units from 20,000 sq ft up to 120,000 sq ft and where we are close to agreeing terms to another expanding local occupier."
By Michelle Mooney