Jack Underwood

proposes some smart ways for retailers to manage the current delivery driver deficit that is pushing UK logistics towards another unprecedented crisis
The rise of e-commerce has created more opportunities for delivery drivers over the past few years. Naturally, there has also been a higher demand for deliveries as e-commerce grew globally by 10% last year. Coupled with an employee deficit caused by Brexit, this has meant the ratio of
deli
veries
to delivery drivers is now at odds, with there being more jobs than drivers.
There is a growing need to fix existing issues to make sure last-mile delivery is at its best. But what do we do when the issues are the drivers? From ride-hailing companies such as Uber to supermarket-supply lorry drivers, the current driver shortage is impacting a variety of sectors and people around the world. Although this can be hard, retailers can help manage both their growing delivery demand and driver shortages with some simple steps.
Expand your recruitment strategy
The most important response to a shortage, recruitment, can sometimes be overlooked as it seems like the obvious answer. Retailers must be willing to diversify how they recruit, who they recruit and how much they'll pay when recruiting to increase the amount of drivers applying for roles in delivery. 
Retailers must first diversify their job advertisements to make sure they are reaching everyone with the necessary skills. They must not rely on any one marketing tactic, but a combination of many. Combining referrals and a variety of platforms where jobs are posted can make a big difference to the types of drivers you employ. Research by the Van Insurer found demographics are changing: it's no longer only the stereotypical 'white van man', with quotes for female couriers increasing by 89% across the UK since 2016. These kinds of changes should be welcomed, and by diversifying advertising, retailers can reach new talent from a range of backgrounds. 
DO MORE WITH LESS

With a shortfall of drivers this huge, initiatives to find and employ new drivers are necessary but do not go far enough. As specialists in scheduling and optimisation, Trakm8 has seen time and time again how deploying a route-optimisation platform can lead to more deliveries being made with the same assets, and help businesses get more out of their existing fleet.

"These benefits are often significant," insists Peter Mansfield, Group Marketing Director at Trakm8. "Indeed, in real terms, Trakm8 Optimisation has provided a 30% increase in delivery driver productivity and a 10% reduction in fuel expenditure to one of the UK's big supermarket chains. Of course, the system's other benefits, such as a reduction in costs due to accidents and servicing, can free up expenditure to allow for a larger overall fleet. 

"If we are to ensure that critical supplies are to be delivered and our supermarket shelves will be stocked as we expect, every business must look at its existing supply chains and ensure they are using the technology on offer to maximise their fleet's potential."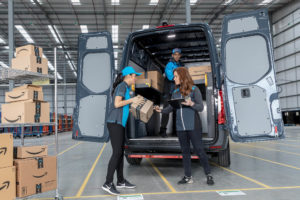 Businesses must also be prepared to pay their delivery drivers a competitive rate. With demand being high due to e-commerce growth, delivery drivers will have many options for work and will therefore pick the places offering the best experience – and salary is a key factor of this. However, we all know it's not that simple; businesses cannot afford higher rates unless something changes. By increasing efficiency across the entire industry, the cost per delivery will remain the same (or potentially decrease) and this, in turn, will allow businesses to put that spend into paying their delivery drivers more.  
Furthermore, retailers must also be willing to train budding delivery drivers. Investment in current workers is important, but making sure there's a new population of drivers to follow is key for retailers to manage both the deficit and the growing rate of e-commerce, too. By increasing training, businesses can make sure drivers have the knowledge and skills needed to carry out deliveries confidently. The more confident your new employees are, the faster they will be able to complete their deliveries without help. This, in turn, will increase the number of products delivered to customers. In the future, we will be able to use data to analyse who the best delivery drivers are – insights that will help businesses employ the best drivers, train staff and track new driver progress.
Finally, a good work-life balance can increase driver acquisition and retention significantly. By offering comfortable working hours to your staff, retailers can make sure they have a competitive advantage in the market. The average delivery driver is estimated to work around 11 hours per day. By not asking for too many drops per hour, encouraging frequent breaks and making sure annual leave is taken, drivers will feel they are cared for, increasing trust and loyalty to your business.  
Increase productivity
Delivery driver management is a priority as it's vital that delivery drivers manage their time well and are efficient. If 11 drivers save one hour each through efficient driving, it saves one full average working day.  
This can be done by using delivery management apps that can help delivery managers have oversight of their drivers and allocate workload better. With this software, managers can build routes for multiple drivers in under five minutes, and track the progress of deliveries to make sure drivers are on track.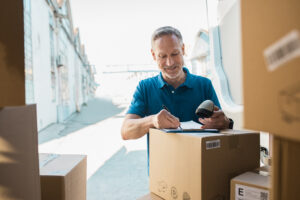 Another useful phone application that drivers can use is a delivery route planner. With this technology, drivers can save both fuel and time by being given the quickest routes. It also helps set new drivers up for success. 
Delivery drivers will want to know which apps are best based on how much time they will save per day, cost-effectiveness, the number of stops the app offers per day, and how well it integrates with well-known navigation apps such as Waze or Apple Maps. As well as standard features, it's important to see what extras might be available. For example, the app could help drivers be faster when finding packages in the vehicle, by logging packages as they're placed in specific zones. Drivers can test these apps free of charge as many offer a free trial before they buy.
Other applications to help with daily logistics include those to find parking spaces, nearby restaurants for lunch and ones that map free local toilet facilities.
Heroic effort

As the average age of HGV drivers in the UK continues to increase, currently standing at 56 – and fewer young people enter the industry – Pall-Ex Group member businesses share the industry-wide view that it is struggling to find drivers to carry out collections and deliveries in a time when demand for such services has increased massively. When surveyed, 74% of Pall-Ex Group members said they were affected by driver shortages every single day, and 100% said the situation was causing them to suffer.

"We are facing one of the greatest challenges of a generation," says Kevin Buchanan, CEO of Pall-Ex Group. "Drivers having to isolate, those leaving the industry due to Covid-19, as well as a vastly reduced talent pool thanks to most European drivers no longer having freedom of movement into the UK, has seen the number of skilled drivers fall off a cliff in the past 18 months.

"The government has always been slow to recognise transport as a key industry in this country. But now more than ever, it is vital it does not neglect the heroes who were hailed as key workers throughout the pandemic, who transported everything from life-saving medical supplies to toilet roll. That can't be allowed to happen."
Plan for commercial days
Retailers should be analysing any and all available data on days where deliveries will be expected to be higher than usual. This will make sure they are well prepared and have enough drivers to complete the deliveries.
Circuit data shows there was a 61% delivery increase on Mother's Day, and for drivers in the food and grocery space, this was similar for events such as the UEFA European Championships and the Olympics. By keeping note of these key commercial dates, such as Halloween and Black Friday, retailers can avoid overwhelming their drivers and can make sure they have the right numbers of drivers on board. 
Manage customer expectations
Outside of the logistics, delivery and handling world, many are unaware of the current delivery driver deficit. Although you want your customers to trust in your ability, you also want to be up front about causes for delays or cancellations. Letting your customers know there is a driver shortage and that you're working to fix it shows transparency and helps build and retain trust. However, you cannot manage customer expectations if you are not sure what they are. It is because of this that retailers should encourage feedback from customers wherever possible.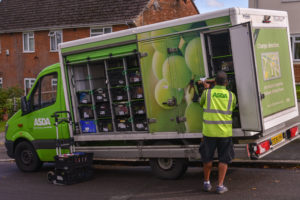 This can be done by making reviewing easily accessible. In certain route-planning software, the capability to capture customer feedback is built into the product, retailers can increase the amount of the feedback they collect by doing the same with their own branded apps. This will make feedback as easy as clicking a button and is more likely to attract customers than using emails or their customer accounts where logging in or registration could make the process longer. Retailers can also encourage customers by offering rewards, so customers feel they are being given something in return for their time. 
It's difficult to predict when this deficit will end, but that does not mean it cannot be prepared for. Although it is not the fault of retailers, it is their responsibility to make sure it is managed properly. By taking the steps above, delivery drivers will be able to trust they're in good hands and will be able to carry out their jobs to the best of their ability.
Jack Underwood is the CEO and Co-founder of Circuit 
If you like Logistics Manager the magazine, you're going to love it when the subject matter of the publication comes to life at Final Destination Logistics on 18-19 May 2022, taking place at the Exhibition Centre, Liverpool. For more information, please click here