Growth in retail sales "is beating even the most optimistic expectations" as consumers have increased spending despite pandemic.
According to the latest figures from the ONS, retail sales volumes in September increased 1.5% month-on-month; a fifth consecutive month of growth and an increase of 5.5% when compared to February's pre-pandemic level.
The proportion of online sales stood at 27.5%, compared with 20.1% n February.
The ONS said that the proportion of online sales increased across all sectors in September, with food retailers nearly doubling online proportions from 5.4% in February to 10.4% in September.
In response to the findings Richard Lim, Chief Executive of Retail Economics, said: "Growth in retail sales is beating even the most optimistic expectations.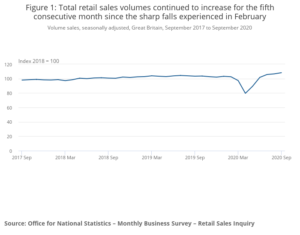 "Consumers have proved extremely resilient as cancelled holidays, fewer trips out and less commuting have boosted discretionary spending power to the benefit of some parts of the retail sector."
Lim said that Christmas 2020 was going to be much different from normal, as consumers are likely to begin their holiday shopping earlier.
However, he adds that it is difficult to "quantify the impact that this will have on the physical retail capacity and supply."
Lim says that the industry is not capable of coping with the holiday demand if "too much shifts online," as there is a chance that demand will outstrip supply, without "creative thinking from retailers, landlords, and the government."