SH Pratt Group is starting fit-out at its new warehouse at DP World London Gateway following the handover of the building.
The 108,555 sq ft temperature-controlled warehouse will be home to its new business, Halo.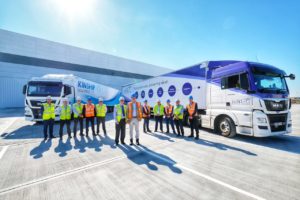 The intention is to have the building operational and handling a large variety of temperature controlled, chilled and frozen products by October.
SH Pratt chairman Robert Wells said: "We'll now begin a three-month period of fitting out the building with high-tech temperature-controlled equipment, which will enable us to handle a huge variety of refrigerated and frozen goods.
"Halo will see us drawing on our expertise in delivering a quality service when it comes to handling a wide range of products. This will be through a state-of-the-art, fully accredited, fully-focused facility, which coupled with the group's sister company, Kinship Logistics, and its ideal location at DP World London Gateway Logistics Park, will be able to pass on tangible savings to customers and also reduce demurrage by offering a rapid turnaround."
Oliver Treneman, park development director at DP World London Gateway, said: "Halo is going to add value to temperature controlled supply chains, through its mix of expertise and know-how and through operating a high-spec, focused facility on the same site as one of the world's fastest growing container ports."