Sky Deutschland has devoted considerable effort over the past five years to transform its supply chain to enhance its focus on the consumer.
Dr Sebastian Hauptmann, senior vice president, supply chain and procurement, will explain the transformation when he speaks at the Logistics & Supply Chain Conference in March.
He will outline how to work with suppliers and sales to deliver a significant turnaround, using analytics and integrated data to achieve award winning results.

Sky Deutschland is just one of the leading international companies that will be talking about their supply chains at the conference.
Michael Mychajluk, Jaguar Land Rover's supply chain and external engagement manager, will outline the experience of a leading OEM and how to manage supplier relationships and expectations.
Mondelēz, the parent of Cadbury, will also use the conference to examine its biggest logistics and supply chain challenge in 20 years.
Jens-Ulf Hinze, customer supply chain and innovation manager at Mondelēz World Travel Retail, will describe how Mondelēz delivered a 14 month consolidation of DCs across Europe, completing the integration of the Cadbury's business and providing a platform for its 'One order, one delivery, one invoice' promise to partners. Other benefits have included streamlining of administration and paperwork, and harmonisation of delivery terms.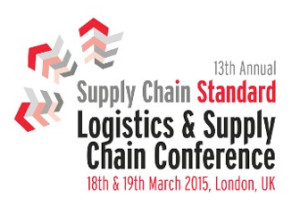 Supply Chain Standard's 13th annual Logistics & Supply Chain Conference has presentations from leading supply chain professionals. It also provides networking opportunities for supply chain executives looking for the latest information, insight and examples of best practice.
The conference takes place on Wednesday 18th and Thursday 19th March 2015 in central London.
Lead partner for the conference is Ceva Logistics, one of the world leading logistics companies, providing end-to-end design, implementation and operational capabilities in freight forwarding, contract logistics, transport management and distribution management. Other partners include: DynaSys, Palletways, and Flanders Investment and Trade.