Sodexo has said that its supply management teams are adopting smarter supply chain practices including shorter circuits, more local products, and more seasonal offers as part of its sustainability commitments.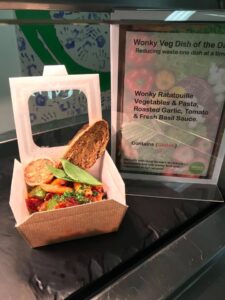 The contract catering giant also said it was giving small companies preferred access to its supply chain through its Partner Inclusion Programme which is aimed at helping SMEs meet its standards.
Sodexo said it currently spends €1.3 billion globally, with SMEs and in the UK & Ireland they currently represented over half of the company's supply chain and 35% of its spend.
Last year Sodexo said it would eliminate single-use plastics from its operations in the UK and Ireland by this year, while it has made steps to remove products containing polystyrene and single-use plastics bags from its supply chain.
Maria Outters, senior vice president of corporate responsibility at Sodexo, said: "Underlying economic and social challenges ahead will magnify the need for economic models built on sustainable consumption patterns and solutions preserving natural resources.
"These priority actions in the current environment are part of our pragmatic approach to work with our clients, suppliers and employees to bring back confidence and seize the window of opportunity to make the recovery a turning point when it comes to sustainability.
"The Covid-19 crisis is a wake-up call to inject a much-needed collective purpose in the economic recovery and prevent an aggravated health, social and ecological crisis. Sodexo is committed to answer that call."
Ana Svab, corporate responsibility manager at Sodexo UK & Ireland, added: "While our priority right now is ensuring the safety of people, our commitment to sustainability remains at the forefront of the changes we are making and we will continue to do as much as we can to improve the quality of life of future generations."