Tees Valley Mayor Ben Houchen has officially opened the new warehouse and showroom of international furniture wholesaler, Baker Furniture.
Baker Furniture, the wholesale business born out of Stockton-based national furniture retailer Barker and Stonehouse, began life by supplying a handful of other independent furniture retailers from its Teesside base. The company has since grown to supply more than 250 companies around the world, including Next, ScS, Cox & Cox and more, with its in-house team designing all of its products.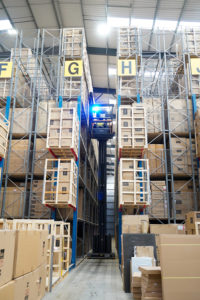 To support this expansion, the firm needed to build a new state-of-the-art warehouse, showroom and modern offices, and initially applied to the Mayor and Combined Authority's Tees Valley Capital Grant Scheme for a grant worth hundreds of thousands of pounds to help fund the project.
However, following its success during lockdown when the public transformed their homes, the business took the decision not to proceed with the successful funding bid as it was able to self-fund the build.
"Using state-of-the-art technology, the new warehouse has twice the storage capacity of its previous unit, despite occupying a site just 40% larger," said Mark Callaghan, Managing Director of Baker Furniture (main picture shows Mayor Houchen [centre] with Stephen Wilson and Mark Callaghan).
"Following a very successful year, despite all the challenges retail faced because of the pandemic, we felt it was only right to withdraw our successful funding bid so that they Mayor had more money on hand to support companies across our region that needed it more than we did."