Manufacturer and supplier of films, tapes and membranes to manufacturers, installers and contractors, Obex Protection has taken a warehouse at St. Modwen Nunnery Park industrial and logistics development in Worcester in just three week.
The 27,000 sq ft unit has been taken to aid expansion for the ten year old company.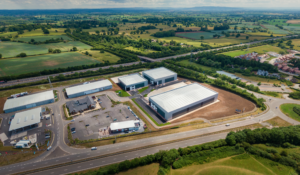 The letting is the first in the final phase of development at the 20-acre site, which has now reached practical completion. Three new mid-sized units have been delivered, with two units of 48,000 and 17,000 sq ft now available for occupation. The site is located adjacent to the M5 motorway.
James Irwin-Singer, development manager at St. Modwen Industrial & Logistics, said: "Obex Protection is a fantastic addition to Nunnery Park and we're pleased that we were able to move quickly to secure this significant letting – even in light of the current situation.
"We agreed terms and exchanged on the deal in just three weeks, testament to the motivation and hard work of both parties. We have worked to minimise the amount of fit-out work needed to be carried out and have given early access to Obex Protection's contractor to bring forward its moving in date."
Peter Farrington of Corporate Property Solutions, which advised Obex Protection, said: "In the current circumstances we were fortunate to be able to secure a lease on attractive terms – it helped dealing with a very straightforward developer and its agent".
Richard Tomlinson of Fisher German, joint agent for the development with Avison Young, said: "Following the success of the first phase of speculative development at Nunnery Park, securing this letting during construction of Phase 2 demonstrates confidence in both the product and the market. This letting to Obex Protection illustrates the underlying demand for quality, well-located industrial and logistics buildings in the region and we continue to see a high level of genuine interest in the few remaining units."