Starship technologies collaborated with Guide Dogs to explore how autonomous delivery robots interact with visually impaired people using guide dogs.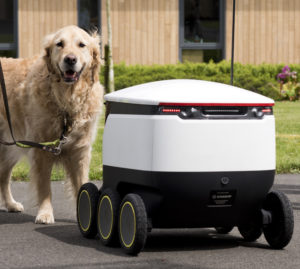 The pilot, held in Milton Keynes, included studying how guide dogs accompanied by their owners and/or trainers reacted to encounters with Starship's autonomous delivery robots in live scenarios. This included meeting from the front and rear, overtaking one another, and heading towards each other at a road crossing.
All the dogs reacted calmly and there were no adverse reactions with most dogs stopping before the robot approached. Overall, Starship's robots have interacted with over 600,000 non-working dogs around the world and encountered similar results.
"Technology is constantly changing our environment and the way we live, so it's vital that GuideDogs as an organisation leads the way in shaping that environment for people with a vision impairment. We want all our guide dog owners and their dogs to feel confident about navigating the streets of the future," said Guide Dogs policy lead, travel and mobility, John Welsman.
The project is set to be expanded further in the future to include more extensive testing aimed at exploring the impact robots may have on people with a spectrum of visual impairments, including guide dog users.