Actor David Suchet, pictured with Peter Ward of the UK Warehousing Association,  has unveiled a blue plaque to inland waterways campaigner Robert Aickman at 11 Gower Street in London – once Aikman's home and now the UKWA headquarters.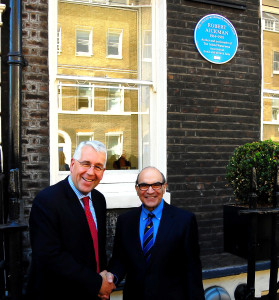 Suchet, who is best known for his portrayal of Agatha Christie's Hercule Poirot, is also a waterways campaigner. Aikman was co-founder of the Inland Waterways Association, and Suchet said that without him we wouldn't have the waterways we so enjoy today. "His efforts, and those of the organisation he founded, are an inspiration to us all and demonstrate what can be achieved through ingenuity, commitment and tenacity."
Peter Ward, CEO of UKWA said: "As host to the unveiling ceremony, UKWA is delighted to welcome IWA. Today, our organisations have a shared vision for modal shift, for economic and environmental benefit for UK plc, which is relevant to a number of UKWA members."
Aickman and his colleagues, who founded the IWA in protest in 1946, fought a determined battle to reverse this policy and win over political and public opinion with an assertive campaign to recover and restore the waterways network.
Current chairman Les Etheridge said: "Aickman's IWA, driven by his ability to write, orate, organise and lead, revitalised the waterways agenda."