Suppeco has fully launched its AI-driven collaborative relationship platform to help organisations optimise their customer-supplier engagements, to drive automation, innovation and growth.
Piloted in 2020 by BAE Systems' Applied Intelligence – and since fully licenced by the company – Suppeco is a disruptive SaaS platform that quantifies hidden value within customer supplier relationships, by creating visibility and structure in a notoriously intangible environment. During increasingly turbulent times, the company uniquely enables organisations, such as BAE Systems, to identify, and exploit hidden and additional value through meaningful collaborative engagement.
BAE Systems Applied Intelligence wanted to move away from arms-length relationships, to build its supplier relationship management (SRM) capability to encourage transparency and openness. "Suppeco has been key to enabling our SRM programme," commented Simon King, Head of Supplier Management and Operations for Applied Intelligence, BAE Systems. "The relationships being managed through the platform are improving supplier performance and delivering increased value to the organisation through the collaborative and open way of working that it encourages."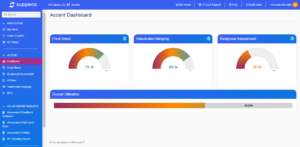 "Cost-driven approaches to supplier management and supply chain have been shown in the past 18 months to be gravely flawed," commented Sheldon Mydat, founder of Suppeco. "The traditional focus on cost-based efficiency and contract performance provides an important but finite opportunity to drive value. Attitudes are changing, becoming customer of choice is key, where measuring value rather than savings is the new imperative. Identifying, structuring – and making that value measurable, is the secret sauce.
Measuring relationship value used to be like nailing jelly to a wall! By providing a solid framework for what was once mostly a 'soft' SRM process, Suppeco is helping companies make that essential transition from transactional procurement to strategic value – extracting substantive value from relationship management.
We believe this heralds a new dawn in realising the power of robust, value-extracting SRM, and is nothing short of transformational. Driving this real value whilst building long-term partnerships is central to Suppeco and is our differentiator."
"Ultimately business is about driving value, increasing profit, and reducing cost," Simon King added. "Suppeco is helping us to see how all those things are infinitely more achievable by unlocking our supplier relationships and exploring what we can do together to deliver the business outcomes that we are all looking for. It is no longer about tweaking margins. Our collaborative SRM programme is enabling us to build the kind of trust, belief and good will amongst our key suppliers which is empowering them to up-level and up-skill their own operations to ensure our continued relationship and joint success."