A supply chain innovation has the potential to bring significant competitive advantage, which makes this an interesting category for the judges. The top two contenders for the prize were General Hearing Instruments with DiCentral and Henkel.
Based in Louisiana, USA, General Hearing Instruments has manufactured hearing aids for millions of people over the last 30 years. Initially supplying devices through audiologists, in 2008 the company began offering an affordable over-the-counter option to consumers and now with demand booming the business has taken a totally new approach to supply chain fulfilment.
Whereas 10 people were previously engaged in manually logging into disparate retailer websites to process orders, by working with DICentral the company is now able to use a single cloud-based EDI solution that consolidates all their orders into one location. The benefits of having a single dashboard, automated processes and reduced errors have enabled the business to service a much larger customer base. The judges appreciated that this was a transformative initiative for the business; however, a very high scoring entry from Henkel took their attention.
There was plenty for the judges to like about Henkel's entry. In what has been described to the judges as a game changer for the consumer goods industry, Henkel has launched an initiative whereby a unique product identifier (UPI) is used to serialise their products. A unique 2D code is printed and applied to each individual product, allowing consumers with a smartphone to see in real-time the make up of their products.
Aggregating these codes at case level and uploading data to the company's newly launched Digital Backbone infrastructure, enables end-to-end product tracking and inventory control at supply chain nodes, which helps in forecasting demand more accurately, reducing stock outs and improving customer service. Advanced analytics also facilitates the gathering of deep insights into production, logistics, consumption patterns and trade spend effectiveness – and has the potential to simplify recall management.
Launched in May 2019 at the company's Laundry and Home Care division in Dusseldorf, the initiative is to be introduced to other product groups during 2020 as part of a global roll out of the technology.
For the judges this was a highly impressive initiative with far reaching implications for the industry. The judges said, "Henkel has seized upon technology developed for the pharmaceutical sector and innovatively applied it to their own industry." The score was high – the trophy had to go to Henkel.
Allison Bales, senior manager – strategy and development, Henkel, said: "It feels amazing to have won this award, we're super proud of this and super happy that we won. It shows that what we do in terms of innovation means something within the supply chain network and it's something that proves that we're on the right track and should keep going in that direction." 
Winner: Henkel
Shortlist: Beate Uhse; General Hearing Instruments with DiCentral; Keysight Technologies; Royal Cornwall Hospitals NHS Trust with Ingenica Solutions.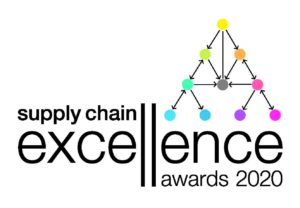 The 24th Supply Chain Excellence Awards will take place on 12 November 2020. The awards are a celebration of all things supply chain and all entrants are put through their paces – including presenting to a panel of their peers – to ensure only the best win the coveted award.
For more information, including how to enter and sponsorship opportunities, and to register your interest go to: Supplychainexcellenceawards.com