Organisations are now fully aware of the importance environmental performance plays in both building brand value and achieving strong competitive positioning. Consequently, there were plenty of entries and the scores were high.
The two outstanding entries in this category came from Kraft Heinz with Wincanton and Primark Stores with PAC-D.
The entry from Kraft Heinz with Wincanton focused on an initiative to radically cut down on the amount of pallet shrink-wrap used and energy wasted through transferring pallets during an upgrade to their highly automated NDC in Wigan. The 73,000 pallet high-bay serves the nation with popular beans and soup products, with huge volumes conveyed every day. However, as a phased programme of system upgrades, stretching over a three-year period, required thousands of additional pallet movements over busy lanes, and by default passing through re-wrapping, it was clear a more environmentally sympathetic solution was needed.
The judges were impressed with the approach taken by Kraft Heinz and Wincanton in tackling the problem. Working closely with warehouse staff, engineers and the automation supplier, a solution was identified – to replace just one section of track near the high-bay in-feed with a new lift table, and so by-pass 120 meters of track and the stretch-wrappers. The result was a saving of over 1,760 km of stretch-wrap and 16,833 kg of CO2 annually. This was a well-considered project that deserved to be Highly Commended.
However, the winning entry came from Primark Stores with PAC-D. The international retailer, known for its affordable fashion, beauty and home ware products, receive, store and despatch only full cartons in order to minimise supply chain costs. But the company recognised that leaving the decisions on carton design up to a supply base of over 1,000 factories caused issues in terms of carton quality, carton fill and suitability for optimal loading in shipping containers and on pallets.
Primark identified a huge opportunity to make significant savings on volumes of shipped cargo and on corrugate materials required by controlling the way goods are packed at the suppliers. The environmental benefits were obvious.
Working with PAC-D, a packing engineering subsidiary of Allport Cargo Services, Primark implemented a transformational packaging optimisation programme that analysed the retailer's supply chain and set up clear packaging standards, trained suppliers at factory level, checked compliance pre-shipment and rolled out an IT solution to optimise data capture and visibility.
In less than a year, the global initiative has had astounding results: a 14% increase in product density, over 40,000 less cubic meters shipped, container utilisation increased from 74% to 85% on average, warehouse pallet density increased 24%, over one million square meters less corrugate material produced and a saving of over 6 million kg of CO2 from freight and material reductions.
This was a global initiative aimed at removing waste from the supply chain and improving the environmental performance of the business. Primark had taken an important step towards reducing its impact on the environment by taking control of the way goods were packed, going right back to the supply base to bring change. The judges recognised the scale of the project and the challenges the business faced and so had little difficulty in awarding the trophy for Environmental Improvement to Primark with PAC-D.
Seamus Lea, business partner for finance, supply chain, Primark, said: "It means everything, because sustainability is so aligned with the Primark cares ethos."
Winner: Primark Stores with PAC-D
Highly Commended: Kraft Heinz with Wincanton.
Shortlist: Braiform with Samuel Grant Packaging; Sainsbury's.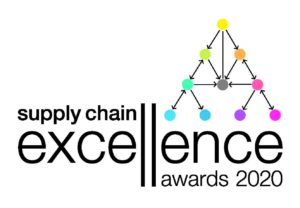 The 24th Supply Chain Excellence Awards will take place on 12 November 2020. The awards are a celebration of all things supply chain and all entrants are put through their paces – including presenting to a panel of their peers – to ensure only the best win the coveted award.
For more information, including how to enter and sponsorship opportunities, and to register your interest go to: Supplychainexcellenceawards.com