As one might expect, the scores in this category were high and the competition fierce. But the two front-runners were, Nisa Retail with DHL and Leonardo Helicopter Division with Kuehne + Nagel.
Operating out of four main pick sites and ten out-base locations, Nisa Retail supplies over 4,000 independent retail customers, many of which are in densely populated and congested areas that are challenging to access. To ensure safety and minimise risk during delivery, every store has a delivery point risk assessment that is available for drivers to read in advance.
As drivers and routes change frequently, the existing system of drivers reviewing material on a PC before departure had its drawbacks and was not easy to access. The solution arrived at was to use a file share placed in the cloud that could be accessed via the drivers' personal mobile device. The judges noted that drivers were fully supportive of the initiative and they were impressed by the positive results of a significant reduction in accidents. But, was it a winner? Well, it was close, although not quite close enough.
Achieving a very high score from the judges was Leonardo Helicopter Division with Kuehne & Nagel. The aerospace company is one of the largest suppliers of defence equipment to the UK MoD, performing research, design, development, production and customer support for the company's extensive range of modern helicopters. Under SC21, an aerospace and defence supply chain improvement programme, the business scored consistently highly and was only the 5th site ever to be awarded the SC21 Gold award.
Through the scheme, Leonardo Helicopter Division with Kuehne & Nagel have achieved significant benefits in the form of leaner processes, waste reduction, workforce motivation, improved workforce skills, better use of internal business information and uprated customer relationships. The results speak for themselves: the minimum standard of 99% on-time delivery and 99% quality metrics have been consistently exceeded over a two year period, with 99.67% on-time delivery and a 99.99% quality metric.
The judges expressed their approval, "the initiative showed creative use of technology to deliver real value, with a positive impact on both quality of products provided and time-to-serve – clearly offering a significant competitive advantage for the business in the demanding sector in which they operate." The trophy for Logistics Innovation went to Leonardo Helicopter Division with Kuehne + Nagel.
Simon Mayo, account general manager, Kuehne + Nagel, said: "It's fantastic to have won this award! It's recognition and validation of our partnership and the developments we've made together in innovation over the last three years."  
Winner: Leonardo Helicopter Division with Kuehne + Nagel
Shortlisted: Hunt's Foodservice with Voiteq; Nisa Retail with DHL; Port of Dover with SEC Storage; Ted Baker with XPO Logistics and Vaillant Industrial.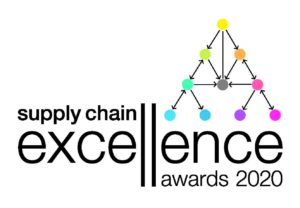 The 24th Supply Chain Excellence Awards will take place on 12 November 2020. The awards are a celebration of all things supply chain and all entrants are put through their paces – including presenting to a panel of their peers – to ensure only the best win the coveted award.
For more information, including how to enter and sponsorship opportunities, and to register your interest go to: Supplychainexcellenceawards.com