The Healthcare & Pharmaceutical Supply Chain Excellence Award showcases five exceptional entries in a sector that has had to deal with unparalleled challenges during an exceedingly difficult year.
You can discover who wins the award – all of which were among the highest scoring entries among the entirety of the awards this year – by registering watch one of two broadcasts of the virtual Supply Chain Excellence Awards 2020 on the 12th November:

Register here for the 3.30pm broadcast.
Or register here for the 7.00pm broadcast.
Alexandra
Alexandra is the UK's largest provider of resolutions for workwear, and has been designing and manufacturing garments since 1854.
There was a 600% increase in demand for scrubs during the pandemic peak; when a rise of 22,000 to 130,000 items a week were requested.
In a matter of weeks, Alexandra turned the business around from 80% of production being tunics and trousers to 95% of what we make being scrubs
More than 90% of Alexandra's manufacturing capacity in its UK and international factories was switched to support the NHS and the company has also marshalled its supply chain network to source millions of pieces of Personal Protective Equipment (PPE).
Subsequently Alexandra and its global supply chain partner, SEKO Logistics, joined forces to fund and deliver 380,000 items of protective equipment PPE, including protective gloves, face masks and aprons to The Orders of St John Care Trust, one of the UK's leading not-for-profit care organisations providing high quality care for more than 3,500 older people at 69 locations across Gloucestershire, Lincolnshire, Oxfordshire, Suffolk, West Sussex and Wiltshire. 
The judges said: " Alexandra have delivered, and then some…"
Guy's & St Thomas' NHS Foundation Trust and CEVA Logistics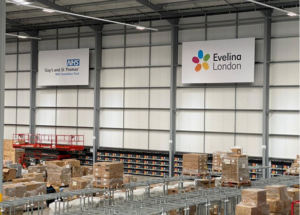 Implementation of a new supply chain Hub to consolidate in-bound deliveries into Guy's Hospital and St Thomas' Hospital has reduced congestion and streamline on-site distribution. The service model includes removing outer cardboard packaging to help reduce 2,000 tonnes of cardboard processed every year, off-site receipting and end-to-end parcel tracking to improve product visibility, and from this summer deployment of hybrid electric trucks to reduce air pollution by designing out 40,000 truck deliveries to the two hospital sites.
From March the Supply Chain hub played a pivotal role to support the Trusts response to COVID-19. In under 2 weeks CEVA Logistics installed new racking to hold 2,500 pallet spaces for PPE, followed by the implementation of a new warehouse management system and building an on-site medical physics workshop.  In parallel the Trust established x200 3D Print Farm over 48hrs to produce eye shields and spare parts for reusable respirators.  The Supply Chain Hub was also adopted by South East London, North West London, and Kent NHS regional teams to manage PPE distribution and by NHS Improvement to first manage distribution of ventilators for the London region before scaling up to operate as the national distribution hub to manage transfer of ventilators between hospitals and equipment servicing.
The judges said that the entry showed "great foresight and clear benefits to all stakeholders" that showed "great thinking with practical application".
NHS Supply Chain & Unipart Logistics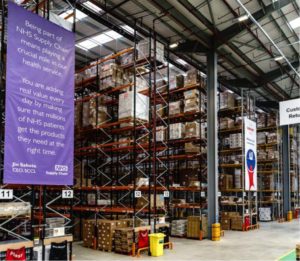 As part of a long-term growth strategy to yield savings for NHS frontline services, Unipart and NHS Supply Chain entered into contract to open a new state-of-the-art facility, NHS Supply Chain Suffolk Park. The 147,000 sq. ft. site was planned as a replacement for an existing site, doubling capacity, with the intention of becoming the exemplary Regional Distribution Centre for NHS Trusts in the South East. The NHS is not obliged to procure supplies internally, as such, they are up against significant market competition.
To grow internal market share, NHS Supply Chain had to increase capacity for delivering orders, which would allow an uplift of 40% in terms of order processing. In addition, the unprecedented arrival of COVID-19 threatened to thwart the opening of the site adding further devastation during a time of national crisis, putting extraordinary pressure on order processing with frontline services demanding substantial supplies. Volume in the network grew from 650,000 lines per week to 792,000 per week within just a matter of days (an increase of circa 152% of BAU volumes).
The judges said "Unipart have had to play a key role in keeping the NHS supplied during one of the most difficult times we've ever faced as a country".
OrderWise and London Ambulance Service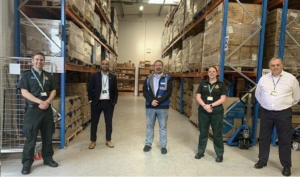 OrderWise was contacted by London Ambulance Service (LAS) on 18th March 2020 with an urgent request for a warehouse and distribution solution to help it manage its PPE supply.
This was as the service faced the unprecedented challenge of coping with the outbreak of Covid-19 with its core goals to protect paramedics and the medical team, treat patients and help stop the spread of the virus.
OrderWise deployed and activated a PPE warehousing and distribution solution within six hours of arrival on site on March 24, 2020 – less than 6 days after the initial call for support.
The solution was expanded within 14 days from one initial warehouse to an additional one and three storage facilities
The new system supported LAS in distributing one million boxes of PPE across its service in the 12 weeks since the outbreak of Covid-19 in the UK, that includes to 15 major ambulance hubs, 50 smaller ambulance stations and ambulances operating out of the Nightingale Hospital at the London Excel.
The judges said the entry demonstrated how far both parties had come in such a short period of time under extremely challenging conditions.
CitySprint
CitySprint – the UK's largest privately-owned same day distribution company — operates the biggest fleet in the UK and has a diverse portfolio of clients.
It supports over 14,000 customers across the UK, including NHS Trusts, major broadcasters, automotive companies, those in the financial sector, publishing, healthcare and government agencies.
Over the course of the Covid-19 pandemic, they have been working with their existing client, Viapath — a London-based, world-class provider of pathology services — to develop and implement at speed one of the UK's first Covid-19 rapid testing services.
This fast-turnaround and bespoke new logistics service has supportedCovid-19 testing in care homes, pre-op patients, hospitality sites and sports facilities — supporting the national effort to contain the disease and allowing the safe re-opening of further parts of the UK economy.
The judges said the entry showed a "fast and efficient service set up rapidly under difficult conditions".