The winner of the IntraLogisteX Award for Warehouse Initiative will be revealed in a virtual ceremony for the Supply Chain Excellence Awards 2020 that takes place tomorrow at 3.30pm.
The IntraLogisteX Award for Warehouse Initiative recognises excellence in warehouse management, incorporating single-site operations or a multi-site strategy. The winner will demonstrate improvement in the efficiency of operations, be it through process, strategy and/or the advanced use of technology and/or automation.
You can discover who wins the award – all of which were among the highest scoring entries among the entirety of the awards this year – by registering watch one of two broadcasts of the virtual Supply Chain Excellence Awards 2020 on the 12th November:

Register here for the 3.30pm broadcast.
Or register here for the 7.00pm broadcast.
B&H Worldwide
B&H Worldwide provides comprehensive logistics solutions for the management of aerospace components of any size and any description, anywhere in the world and are solely dedicated to the aerospace industry. It has strategically located warehousing facilities around the world to help its customers position their stock to meet demanding service level agreements and manage factory inventory overflow. Its cloud based FirstTrac system compliments our warehousing services by providing our customers the ability to track their assets and provides real-time visibility of all inventory and in transit consignments throughout the globe, 24/7.
The judges said that the "benefits in terms of speed and location selection was clear".
DHL Supply Chain & National Grid
How do you achieve a zero Lost Time frequency Rate of 7006 days, or 19 years? You put the culture of health and safety at the heart of everything you do every day, proactively engage your colleagues and visitors to site, work collaboratively and openly together to strengthen existing best practices and behaviours to ensure the standards expected by both DHL Supply Chain and National Grid are met and sustained. 
The judges singled out an "impressive record" when it came to lost time injury frequency.
Eddie Stobart with AG BARR
An Eddie Stobart site for AG BARR had been dealing with relatively low inbound and outbound volumes. As a result, the site had been run with a small crew and a management structure set for the volumes at hand. But in 2018 the combination of a hot summer, a football World Cup and an impending sugar tax drove volumes up to an unprecedented level and identified some big challenges for the site. In order to move towards a bigger site mentality, and a more mature strategic growth plan, a collaborative approach to identify key risks and the approach to resolve them was established.  The key areas of development identified were strategic planning, site organisational structure, budgeting and talent development and it adopted a vision around four pillars: health and safety; people; operations and customer.
The judges praised a "well implemented plan to improve warehouse utilisation".
Kraft Heinz with Wincanton
Wincanton manages Kraft-Heinz's NDC in Wigan. As Covid-19 started to impact the supply chain in March 2020, the NDC saw a 15% increase in volume in the first week alone and this demand would last for the next six weeks with the peak week seeing a record breaking 42% un-forecasted increase in orders, peaking at 2.7 million cases in a week.  To continue supplying the country with favourite foods like baked beans, the Wincanton for Kraft-Heinz team adapted processes and systems under difficult circumstances to ensure the safety and wellbeing of the teams, manage the extra capacity and volumes and reduced availability of haulage. From March to May, the team created a safe working environment for all employees on-site whilst implementing new order processes to create new ways of working that would deliver increased efficiency and capacity to deliver a record-breaking increase in volume.
The judges said the entry demonstrated a "good set of actions in response to the crisis".
N Brown and Dematic
As a digital fashion business, N Brown is ideally placed to use the latest automation equipment in helping to add value to a high-volume returns operation. Combining the best of the old in the shape of a 100-year-old ex-cotton mill with automation technology shaped and transformed the operation. The final design was made more effective by garnering input from the frontline colleagues. Effective collaboration between N Brown and long-term partner Dematic was key to the success of the project. 
The judges said the entry showed a "solid improvement to their operations with lots of clear benefits".
NHS Supply Chain with Unipart Logistics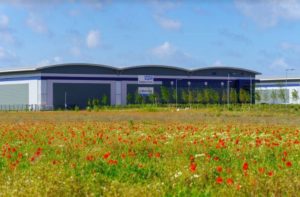 As part of a long-term growth strategy to yield savings for NHS frontline services, Unipart and NHS Supply Chain entered into contract to open a new state-of-the-art facility, NHS Supply Chain Suffolk Park. The 147,000 sq. ft. site was planned as a replacement for an existing site, doubling capacity, with the intention of becoming the exemplary Regional Distribution Centre for NHS Trusts in the South East. The NHS is not obliged to procure supplies internally, as such, they are up against significant market competition.
To grow internal market share, NHS Supply Chain had to increase capacity for delivering orders, which would allow an uplift of 40% in terms of order processing. In addition, the unprecedented arrival of Covid-19 threatened to thwart the opening of the site adding further devastation during a time of national crisis, putting extraordinary pressure on order processing with frontline services demanding substantial supplies. Volume in the network grew from 650,000 lines per week to 792,000 per week within just a matter of days (an increase of circa 152% of BAU volumes). Through an innovative approach, harnessing progressive technology and best practice in supply chain operations, Unipart and NHSSC were able to realise an incredible logistical feat.
The judges said that the entry was a "smooth story with clear benefits and major Covid disruption".
Discover the full shortlist for the Supply Chain Excellence Awards 2020.