Seven entries make the shortlist for The Supply Chain Innovation Award that most extensive of the 2020 Supply Chain Excellence Awards, in a category that recognises projects that demonstrate how an organisation is driving change by the adoption of new, innovative supply chain practices.
You can discover who wins the award by registering for one of two broadcasts on the 12 November:
Register here for the 3.30pm broadcast.
Or register here for the 7.00pm broadcast.

CBRE
Procurement fraud is the second biggest economic crime costing corporations $2.9 trillion globally. CBRE (which has four major business segments; each operating multiple financial systems, processes and controls) had a goal to develop an innovative fraud analytics process to identify suspicious transactions to cover data across 70 countries and 150,000 suppliers. It consolidated and cleansed over one billion transactions, across 25 financial systems (some of which had 19 different environments) and did so in 11 languages. In its fraud analytics team ran three workstreams to write innovative algorithms to identify and display suspicious transactions and companies. This enabled fraud detection, client savings and increased confidence in CBRE's global supply chain.
Decathlon with Geek+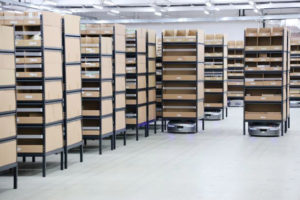 Technology from Geek+ delivered impressive results for Decathlon, including a tripling of the average productivity of warehouse teammates, as well as increasing inventory capacity by 40%. The 'goods-to-person' solution, using P800 robots from Geek+, introduced a flexibility that was simply not available to Decathlon from other, more traditional, automation set-ups. According to Bruno Thellier, Transformation Leader at Decathlon: "It's not so much that Geek+ solved a specific existing problem, but more that they gave us totally new capabilities, offering us efficiencies and improvements that were simply not on the table before we worked with them."
Fargo Systems with Genesee & Wyoming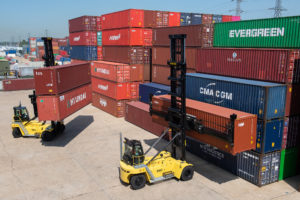 The acquisition of Freightliner and Pentalver by Genesee & Wyoming (G&W) resulted in internodal logistics software provider Fargo Systems signing two contracts with G&W's UK region companies, incorporating a fixed-term TOPS TMS roll out contract and a three-phase implementation programme. Steve Collins, director at Fargo Systems, said that Freightliner's road services, Pentalver Transport and Pentalver (Cannock), had been clients for many years but with G&W now at the helm, Fargo was delighted to be playing its part in helping them achieve their long-term strategic aim of taking the three businesses into the future as a single service solution for the whole of the UK.
Infineon Technologies
The coronavirus suddenly forced the world to adapt to unprecedented situations, measures taken by governments and agencies are severely affecting our daily life as well as our business. Infineon Technologies AG, as a top player in the semiconductor industry, sought to do the utmost to keep the business stable, managing production and safeguarding the supply chain. Infineon is addressing the Covid-19 outbreak not as a threat, but as an opportunity to boost digital transformation and improve its supply chain management. The pandemic taskforce, created in the early stages of the pandemic, carefully monitors the situation and helps acting accordingly. Its main scope is to forecast the next governmental decisions at Infineon's relevant countries, in order to estimate the impact on the supply, demand and transit time via estimating the infection and death rates. In addition, Infineon quickly reacted to unforeseen obstacles in the operations, particularly in the deliveries, proving its remarkable logistic flexibility.
Kraft Heinz with Wincanton
Wincanton and is partner Kraft Heinz Company have taken their two-decade relationship to a new level. Wincanton has managed the physical ambient warehousing and distribution of Kraft Heinz products since 1996 but the relationship entered a new phase during 2018/19. An opportunity to review how the two businesses operated has led them to forge a transformative new and ground-breaking level of supply chain management and integration in UK logistics – "ONE Team". "Project Anoles" was launched and conducted a detailed end to end review of the Kraft Heinz logistics operations with the aim of streamlining processes, eliminating overlap or duplication and ensuring that there was a win:win for both companies, under-pinned by trust and empathy. The scale of the project required a multi-disciplinary project team to ensure each workstream remained co-ordinated and within less than six months a new team was being assembled. Today the "ONE Team" approach is thriving and the entire UK operation is performing with agility and pace. Since the new processes and team have been installed engagement on site has increased, data management and analytics are driving significant operational efficiencies and there is a pipeline of continuous improvements which will ensure future benefits.
Wavin with XPO Logistics
Wavin, a supplier of plastic pipe, drainage and clay products for residential, non-residential and civil engineering projects, awarded XPO Logistics a three-year contract for its UK transport operations in 2018. Wavin had been experiencing service issues with its previous parcel provider, to the degree their largest customer had started banning deliveries from the parcel provider. This led to small deliveries being forced on to the core dedicated fleet and led to expense in the Wavin transport operation. XPO provided a mixture of routes to market while controlling cost, with the aim of allowing planners to select the cheapest delivery option and provide the customer with the same delivery experience regardless of route. XPO teamed the existing core dedicated fleet on the contract with the XPO multi-user pallet network, and then created a parcel delivery network with locations based from Wavin and XPO operations allowing full coverage of the whole of the UK. This improved customer service, led to a reduction in cost and a better relationship with the customers customer.
ZigZag Global
The ZigZag platform connects retailers to an international network of 220 warehouses and 200 carrier services in over 130 countries – all from a single integration. ZigZag uses predictive analytics to understand whether a retailer should hold and resell returned products in local markets or bring them back via consolidation, in the most cost-effective and energy-efficient way possible. ZigZag's mission is to deliver the best technology and service to transform the returns experience by reducing the cost, waste and friction associated with returns, whilst boosting customer loyalty, profitability and sustainability. ZigZag's returns solution will now offer dynamic exchanges for its retailers' customers. ZigZag's online retailer-branded portal now allows users to exchange any item in their basket they wish to return with another from the retailer's catalogue. The platform will provide the customer with various appropriate replacement options, ranging from different colours and sizes, that the retailer has in stock.
The winner will be announced in a virtual ceremony on Thursday 12 November.