DHL with Her Majesty's Prison and Probation Service; OrderWise and London Ambulance Service; Oxford University Press with CEVA Logistics and White Stuff and Ligentia are all shortlisted for the Supply Chain Strategy and Design Award.
The award recognises excellence in strategic developments in an organisation's supply chain management and practice that have a quantifiable benefit to the business.

You can discover who wins the award by registering watch one of two broadcasts of the virtual Supply Chain Excellence Awards 2020 on the 12th November:
Register here for the 3.30pm broadcast.
Or register here for the 7.00pm broadcast.
DHL with Her Majesty's Prison and Probation Service (HMPPS)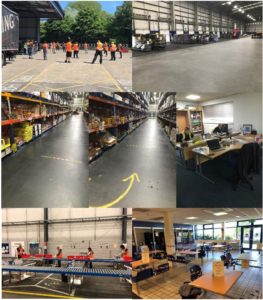 As part of its service to the public sector, DHL supplies offenders with retail goods which can be bought through the retail canteen service within the prisons. Being key workers during the pandemic, working collaboratively with Her Majesty's Prison and Probation Service (HMPPS), supply chain partner Booker and other internal DHL contracts it provided offenders with goods and supported the service throughout this difficult time. DHL processes approximately 64,000 orders per week, this is circa 1.2m item picks per week from eighteen warehouses situated within the prisons. DHL utilised the skills of some 750 serving offenders who are managed by DHL colleagues.
During the pandemic, DHL delivered a full ambient canteen service on time. It did so with a loss of 55% of its workforce overnight due to social distancing. In addition, within a five day turn around, DHL opened its first contingency site and five days later went live with a second. It employed and inducted some 160 agency and DHL furloughed staff to operate them. Within two weeks the new sites processed 19% of our volume. DHL did this in adherence to the government guidelines, with the wellbeing of staff and offender workforce at the forefront of its operations.
The judges said that the entry demonstrated a "great team effort maintaining an important service".
OrderWise and London Ambulance Service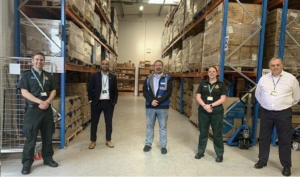 OrderWise was contacted by London Ambulance Service (LAS) on 18th March 2020 with an urgent request for a warehouse and distribution solution to help it manage its PPE supply.
This was as the service faced the unprecedented challenge of coping with the outbreak of Covid-19 with its core goals to protect paramedics and the medical team, treat patients and help stop the spread of the virus. OrderWise deployed and activated a PPE warehousing and distribution solution within six hours of arrival on site on 24th March 2020 – less than six days after the initial call for support. The solution was expanded within 14 days from one initial warehouse to an additional one and three storage facilities. The new system supported LAS in distributing one million boxes of PPE across its service in the 12 weeks since the outbreak of Covid-19 in the UK, that includes to 15 major ambulance hubs, 50 smaller ambulance stations and ambulances operating out of the Nightingale Hospital at the London Excel.
The judges said the entry was a "passionate delivery" of a "cannot fail" project.
Oxford University Press with CEVA Logistics
Oxford University Press (OUP), global publishers of Educational and Academic publishing; operated an in-house distribution centre, faced the challenges of a shrinking paper copy market that is moving to digital media, and, a highly seasonal profile, aligned to the academic year. The objective of the partnership was to redesign and optimise the cube requirement for the OUP operation, and develop their Kettering facility into a shared client environment. The long-term lease transferring to CEVA Logistics in January enabled OUP to pay for the space they need and allowed CEVA to introduce additional complementary customers to the facility.
The transformation programme has seen OUP permanently reduce its space requirement by 48%, through the introduction of a new mezzanine, dynamic SKU profiling and stock allocation, voice pick and an integrated conveyor system. The scheduled work included the reconfiguration of over 55,000 stock locations, the introduction of 16,000 new bulk shelf locations and over 80,000 individual product moves.
The judges described the entry as a "great solution".
White Stuff and Ligentia
Ligentia has worked with White Stuff for five years managing its international supply chain from Asia into the UK including ocean, air and road freight. In 2019 Ligentia and White Stuff embarked on an ambitious and innovative programme of supply chain re-engineering aimed at delivering best practice, cost savings and process efficiency to remain competitive in within the UK retail sector. This programme is now being delivered in phases during 2020 with blue sky projects reaching further into the future. The individual sections of the project all fit together to provide one new supply chain, fit for the future and delivering significant benefits all supported by Ligentia's advanced technology – Ligentix.
"It's clear there has been good collaboration and the positive results are obvious," said the judges.
The Supply Chain Excellence Awards 2020 are sponsored by Clipper Logistics; DP World; Geek + and Unipart Logistics.