Five entries across a diverse range of supply chains, including food and drink; retail and temperature-controlled will battle it out to win the Sustainability Award at the 2020 Supply Chain Excellence Awards.
The Sustainability Award recognises environmental projects throughout the supply chain that use resources more efficiently and minimise waste.
You can discover who wins the award by registering watch one of two broadcasts of the virtual Supply Chain Excellence Awards 2020 on the 12 November:
Register here for the 3.30pm broadcast.
Or register here for the 7.00pm broadcast.

ASDA with Packaging by Quadient & Clipper Logistics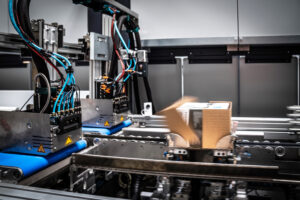 ASDA's desire to reduce the amount of cardboard used when packing George Home e-commerce orders, combined with a wish to remove capacity constraints during peak periods, led the business to acquire a state-of-the-art automated packing system that tailor-makes parcels at the rate of 500 packages per hour – combining multiple items, if required. Picking and packing some 31,000 units a day of general merchandise at peak is quite a challenge.
Following the installation of Quadient's CVP Impack in September 2019, ASDA has been able to dramatically increase (from 30 to 60) the number of boxes per pallet dispatched, which has enabled ASDA to remove one 40ft trailer a day from the road – a major environmental benefit and a significant cost saving. The business also buys around 30% less cardboard for the same volume of orders and, as the machine creates a snug fit, the use of void-fill and bubble-wrap has been eliminated and breakages / returns have been reduced. A further critical benefit is that by using the CVP Impack, pressure on labour resources during peak periods has been reduced, which has allowed for future growth.
Controlant
Controlant is digitally connecting the global cold chain, providing unparalleled insights for pharmaceutical manufacturers and logistics providers into the location and quality conditions of products as they travel throughout the supply chain, in addition to broader analytics into their supply chain operations. Controlant's Cold Chain as a Service solution provides a single source of supply chain truth. The solution consists of Internet of Things data loggers that collect and send mission-critical supply chain insights in real-time to Controlant's cloud-enabled software platform, and cost-reducing operational services. Controlant customers leverage the improved visibility to connect stakeholders, improve efficiency, and increase revenues.
Ella's Kitchen with Wincanton
Wincanton, Britain's largest 3PL, and its client, Ella's Kitchen, have collaborated to find the most environmentally friendly, sustainable means to service their customers. Working with supply chain stakeholders we have sought to reduce the logistics carbon footprint from one of Ella's largest suppliers based in Northern Ireland into the Wigan NDC. Ella's stock is very light, so inbound pallets have always been built high to the limitations of the automated warehouse in which they would be stored and picked. However, this means that the ex-factory trailers neither cube or weigh-out and more loads are shipped than would be possible if the trailer fill was also optimised.
A working party was assembled consisting of key supply chain stakeholders to evaluate options. The Ella's product portfolio was reviewed, and a shortlist of critical SKUs was identified for which a change to the pallet build specification could facilitate double stacking and potentially halve the number of loads shipped whilst not compromising product quality or warehouse efficiencies. Packaging and transit trials have confirmed that a modification to just 25% of the SKUs has facilitated a disproportionate 48% reduction in loads shipped, and will save 115 t CO2 e pa.
Kolonial.no and RELEX Solutions
Kolonial.no is Norway's largest online grocery retailer and the fastest growing company in the sector in the Nordic region. Kolonial.no offers a range of more than 6,700 products delivered to their clients' homes or to pick up points. Kolonial.no has worked with RELEX to become more sustainable by cutting waste and costs while simultaneously improve availability through better forecasting and replenishment. RELEX was founded in 2005 by three postgraduate supply chain & logistics researchers and has expanded to offer its unified retail planning technology to companies all around the world. Their goal is to perfect retail operations through more accurate and efficient use of data.
Today, the retail optimisation software helps companies hone a competitive edge in the age of Living Retail, where change is the only constant. Since implementing RELEX's forecasting and replenishment solution, Kolonial.no have reduced the cost of food spoilage by 44%. This adds up to a reduction of 109,000 kg in food waste and is the equivalent of 228,000 kg of CO2. Kolonial.no's sales have increased significantly at the same time as availability levels have been maintained, so dramatic growth and waste reduction has not increased stock-outs. Meanwhile inventory turnover is up by 25%.
Pladis

#RoadtoZero" is an internal campaign at plaids which aims to reduce pladis UK's supply chain waste sub 2% by 2021. The project sets out to tackle the 18,000 tonnes of gross loss waste per annum across a network of eight sites. #RoadtoZero is a collaborative effort across every function involving senior leaders, excellence leads, graduates and manufacturing colleagues. It's one of several 'Planet' initiatives at plaids demonstrating its sustainability commitments.
Since its launch, employees have adopted innovative solutions and engineering techniques to reduce the company's impact on the planet. Pladis UK has set the ambitious target to make all plastic packaging recyclable, reusable or compostable by 2025. But, in the meantime, it is ensuring that all our packaging can be recycled through its continued partnership with TerraCycle and it is improving its labelling to ensure consumers can easily determine how and where to recycle their packaging.
The Supply Chain Excellence Awards 2020 are sponsored by Clipper Logistics; DP World; Geek + and Unipart Logistics.