Three major retailers working in collaboration with robotics partners are shortlisted for the Unipart Logistics Award for Best Use of Robotics in the 2020 Supply Chain Excellence Awards.
This award recognises projects where an organisation has used robotics to deliver fundamental changes to its logistics and supply chain operations, and the winners will be revealed in a virtual ceremony that takes place on 12 November.

You can discover who wins the award by registering for one of two broadcasts on the day:
Register here for the 3.30pm broadcast.
Or register here for the 7.00pm broadcast.
Decathlon with Geek+

Working in partnership,Decathlon and Geek+  tripled the productivity of its warehouse employees, and increased inventory capacity by 40%, through the use of goods-to-person P800 robots.
Decathlon's e-commerce business was experiencing a period of rapid growth but this had highlighted a "limited performance of manual processes." Working with Geek+, Decathlon was able to increase its shipment capacity to 40,000 pieces a day.
Geek+ also provided a RFID technology-based goods-to-person picking and inventory programme. The project includes 46 P800 robots, seven picking stations, and seven single point stations.
The judges said the entry demonstrated a successful project that had been delivered in rapid time with many client benefits.
Superdry with Invar Systems and Hikrobot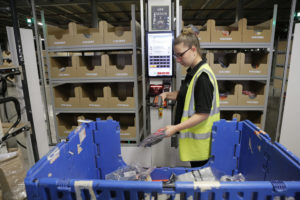 To support future growth, global fashion brand, Superdry, has leveraging the flexibility of intelligent mini-robot carriers from Hikrobot to transform order picking and put-away – just part of a phased roll-out of goods-to-person robotics that is set to boost productivity and capacity across its international network of multi-channel fulfilment centres.
A successful pilot project for handling ecommerce returns was conducted in 2018, involving six autonomous Hikrobot carriers at the company's UK distribution centre in Burton-upon-Trent. Following the success of the project, Superdry went on in January 2020 to deploy a further fleet of 20 Hikrobot carriers to handle continental ecommerce returns at its European DC in Belgium.
This spring, the Burton-upon-Trent site saw the installation of 40 more Hikrobot robots in an expansion of the existing goods-to-person system. The enlarged operation handles the entire picking and put-away of womenswear for retail, ecommerce and wholesale. Over 80,000 sq ft of the warehouse has been set out with 1000 transportable pick-wall modules and the area is equipped with a total of twelve pick-to-light stations.
Menswear will follow later with an estimated requirement for 60 more robots and expectations are for the further deployment of Hikrobot carriers in Belgium and the USA.
The judges said the entry had shown an "innovative, modular approach" that brought together robotics with manual solutions which made it scalable and easier to implement.
Boots with Locus Robotics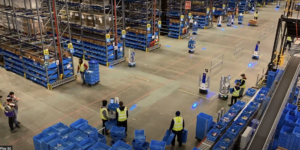 Boots.com's 236,806 sq ft warehouse in Burton upon Trent received a powerful helping hand in 2019 to help meet the and exploding Peak Christmas and, later, the pandemic-related consumer online demand.
Deploying 135 new autonomous mobile robots (AMRs) from Locus Robotics alongside existing automation, Boots was able to deliver over two million orders to customers over the Black Friday and Christmas period. Then, with an unanticipated order surge resulting from the Covid pandemic, Boots fulfilled more than double the normal off peak volume (similar to Black Friday volumes) with the help of the Locus automation solution.
The Locus robots have been one of the key reasons for Boots' ability to stay on top of the overwhelming demand. In fact, using the LocusBots, Boots has more than doubled productivity by optimising picking density, cutting down unproductive walking time, improving picking speed, lowering cycle times, while improving workplace quality and safety.
The judges praised the implementation and its evaluation of risk, as well as the improvement in throughput capacity.
The Best Use of Robotics Award is Sponsored by Unipart Logistics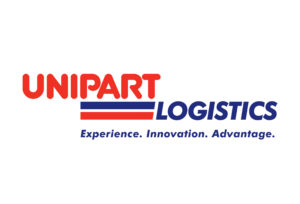 Unipart Logistics is part of the Unipart Group which today spans Manufacturing, Logistics and Consultancy. Unipart Logistics provide imaginative and transformational opportunities that go beyond traditional logistics, with an unrivalled award-winning environmental and safety credentials. With a focus on delivering experience, innovation and advantage for their customers, who can bring the same to theirs. Unipart provides a wide range of supply chain services, underpinned by a suite of digital products across multiple markets and sectors including; Automotive, Consumer, Health, Technology and Utilities.